Tortie question

United States
6 responses

• United States
12 Feb 07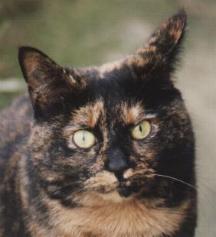 Yes it true here's why there are so few males: TORTOISESHELL AND TRI-COLOUR CATS Because of the way tortoiseshell is inherited, almost all tortoiseshell and calico cats are female. The very few male tortoiseshell cats are caused by genetic aberration or development abnormalities in the foetus. I had a beauty (a stray) with one blue eye and one green eye, named Cali.

• United States
12 Feb 07
I guess the key word was "only" female I should have started my comment with they are "mostly female"...sorry

• United States
12 Feb 07
It is not true. Tortie kitties are mostly female - not entirely female. Males are EXTREMELY rare and worth a lot of money. I have a Tortie... she is beautiful and she knows it. Tortie kitties have a lot of attitude... it's one of their character traits.

• United States
12 Feb 07
I never had a tortie. I adopted her at around 6 months old. She is 15 months now. She is the sweetest thing, but is very vocal and into everything. Is that a characteristic of them?

• United States
12 Feb 07
Oh yeah my cat is very opinionated. And if you try to tell them no... watch the little attitude they give you.

• United States
12 Feb 07
It is true that almost all tortie cats are females. There are rare cases where a male is actually born. But in most of these cases they are born sterile. There have been only a few cases where a male is not sterile. I have a tortie. She is 1-1/2 years old and is a sweetheart.

• United States
12 Feb 07
I have a 15 month old and is the sweetest too. We adopted her at around 6 months. Are they mixed with Siamese? She talks a lot. Does yours?

• United States
12 Feb 07
I have heard that too. Also heard that tortoiseshell males that are rare are sterile. Would imagine it has something to do with the genetics. Not sure why it would be a bad thing to be a tortoiseshell, or calico. Same with the polydactul cats. The ones with extra toes. Not sure why that would be a problem. Nature does it thing is all I know. Interesting question my friend.

• Canada
12 Feb 07
Aha I know this one! I wondered that years ago. We have a couple of torties and one is female and the other is male. Well seeing as how I spay and neuter every animal here I took them in for the operations. The vet told me that the chances of a male torite are very rare and that he was probably sterile anyway ( the cat not the vet lol). It has something to do with the X chromosones. I can't remember if males have 1 and females have 2. But anyway the vast majority of torties are female.

• United States
12 Feb 07
LOL I dont even know what t tortie cat is. So I would have no idea