Well there goes MY reputation!!!

United States
February 12, 2007 4:34am CST
RATS!! Rats, rats, rats!!! Well, my beautiful 10 just went out the dang window!! And you know what?? I'm laughing my a$$ off about it!! I guess I should learn by now that I need to keep my mouth shut. Well, you know what? I'm not!! I am not going to sit here and let other people who think that they are better than others treat them like crap...like talking about "fat" people. And I'm also not going to let "holier than thou" people start stupid religious discussions that can't back up a single thing they have shared in their discussion and then start "bashing" my friends or myself or anyone else because we do not agree with what they have posted!!! You can call me an instigator or a bully or someone that just REALLY loves to argue, I don't CARE!!! I am who I am and everyone is just going to have to get used to that fact because I am going to be here for a long, long, LONG time!!!
5 responses

• Philippines
12 Feb 07
I know your sentiments, so don't worry about them!;) I know that their time here will surely end soon, they don't belong in this great site. This is a place for people who wants to share infos and not to divide them. Knowing the fact they are just new here but already wants to make a name for themselves, as if they own this community! For them to think that if they post irrational topics would earn them a few cents? Hell, they must be kidding me. Don't worry about your reputation, I'm sure they go up by the time you knew it!;)

• United States
13 Feb 07
Awe, well thank you!! And thank you for knowing what I am talking about!! I really appreciate it ;)

• Philippines
12 Feb 07
I just posted a discussion saying my star is bouncing like a pingpong ball no matter how I try to be polite in the way I answer to topics that I don't agree with the poster. But the more I try to be good the more my ratings drop. I don't really know why. Anyway my earnings is not affected so I couldn't care less. In fact I notice a significant increase, so I find that very encouraging. It only goes to show that Mylot is monitoring what is going on and the rules don't work for people who are dragging other people down. Cheers.

• United States
12 Feb 07
Thanks ;)!! I WAS a ten for the longest time because I tried to be as nice as I could to others, I guess last night I forgot to be nice...actually I didn't care if I was nice or not because people are very rude, and I wasn't going to just sit there and take it!!


• United States
12 Feb 07
LoL!! Thanks, but it looks like you some luck yourself!! I am sorry that you are a 2, I have read some of your responses and I don't think that you deserve it!!

• United States
27 Apr 07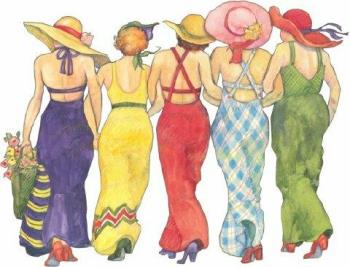 Well, well, well, Rosey:As I am perched here on my throne of gold, while in my ivory tower, with all the fair maidens and drones around me to do my bidding, I now say that I have just requested your hand in MyLot friendship and hitherto prithee that you respond in the affirmative. You see, my first numeral IX, then it fell to an VIII, then quickly back to a numeral IX once again, where it has remained stuck ever since. Thus, I am requesting that I be allowed to join you in the Club For Bad Women! If you accept me into the club will you please send me the documentation on meeting times, places, etc.?~Donna

• United States
26 Apr 07
Dude you can not please everyone all the time its just not possible.. besides if everyone agreed with each other this would be the most boring site Ive ever been on.. The fact that everyone has a different opinion is the best part about it.. I wouldn't worry just keep on posting what you believe and who cares what that star says... besides your still a 9 now that's pretty good .. keep up the great work.. :)