are u fond of lookin up the sky at night?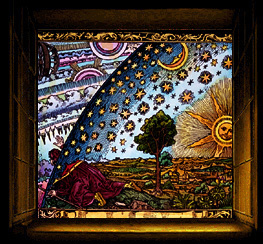 Philippines
February 12, 2007 10:53pm CST
i love to look at the sky during night time., i love the stars and the constellaitons that i could point it all out to., do you believe in myths? about mythodology??? i love knowing all of it!!! on how it become one?! and how the stars connected to these so called myths... did you know that long ago, peole associated the heaves, the stars and the patters seen in the sky totheir gods and goddesses?! you can look it also in this site: www.windows.ucar.edu if you got anything more about the universe please do give me your replys., thank you so much
9 responses

• Egypt
15 Feb 07
Yes I like to look at skies at night, it's fascinating and sometimes you are lucky and see magnificent things like comets and falling stars, I've seen a few along the years and 3 times i saw spectacular comets that some people would swear to be UFOs. lol ..but I really know what I saw, nature is better than sci-fic sometimes :)

• Philippines
15 Feb 07
you're right with that friend., me too., ive seen comets... way back... and lovin it., also falling stars... love the sky during evening.. many spectaculaar things to watch to...

• India
15 Feb 07
Sometimes we have dinner on the open terrace and from there all of us could see the beautiful sky, with moon and millions of stars twinkling. We love to watch it showing which one is bright and which one not so visible. Since my son knows something about Galaxy, he adds his comment authoritatively which we have forgotten after the school days.

• Philippines
15 Feb 07
thats nice., eating outside the open space of ur veranda while having fun and looking at the stars above... love that so much

• India
14 Feb 07
I like astronomy.There are some good free planetarium models around.The best is kstars.But it works only on Linux. If you search around you might find some good ones for windows also. But I admit it is much more fun watching the open sky rather than watching it through the computer. But with the help of the softwares you get a much closer and detailed view.Wishes

• Philippines
14 Feb 07
u are right with that my friend., we could have a closer view in our computer but with open skies and a good weather., what more could we ask for., its more than enough... thanks friend

• Australia
13 Feb 07
Yes it is lovely to be able to look up at the sky during the night and see the wonderful stars and the world above. Yes I do believe in mytholodgy. The stars are the best for me as they twinkle in the night sky. ..oh yes I do know that many people used to relate the sky, sun and the whole universe with their gods.

• Philippines
14 Feb 07
yah me too love to know the corresponding mythodology each planets sun and stars means to right friend


• United States
15 Feb 07
The night sky is a beaitiful site to behold ...I can't tell you what star is what ..but I love to look ...my daughter loves to be able to find the moon and show Mommy.. shes two ..and she loves to look up and she jumps up trying to catch a star or the moon ...


• Philippines
15 Feb 07
and i love your idea., we've done that so many times with my boyfriend., specially when we go to the beach., right?!

• Canada
13 Feb 07
i always wonder what the stars mean. . .some nights i look at the stars and think that they are so beautiful. my boyfriend knows a bit about them and is wanting to buy a telescope to be able to get a better view of them. i hope he does. i think it would be really cool

• Philippines
13 Feb 07
me too i wish to really look close to the stars and know there whole meaning and how are they formed., i love to know more about the universe... and so curios about it too

• Philippines
13 Feb 07
i like looking at the stars at night. but i dont memorize the constellations