got a good recipe?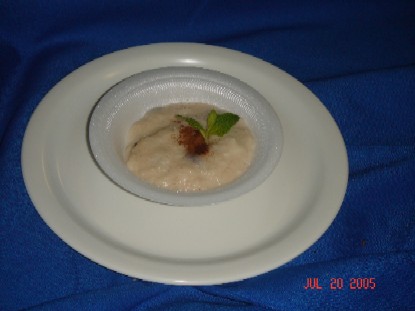 Canada
February 13, 2007 1:28am CST
Here is a version my friend gave to me it is quiet tasty. Rice puddings:1/2 c. rice, 1 quart of milk, 1/2 cup sugar or 2/3 c. brown sugar, 1/2 tsp. salt, 1/4 tsp. nutmeg and 1/2 c raisins Combine rice, milk, sugar and salt; pour into buttered 1.5 quart baking dish. Bake in slow oven (300F) one hour; stir occasionally. Add nutmeg and raisins; continue baking another 1.5 to 1.75 hours. Makes six servings (though I ate it in two sittings).
2 responses

• Canada
13 Feb 07
Sounds tastey , My isiters and I used to make it . I haven`t had in years , I will ask her next time I get back for a visit to make it . Mind you I don`t get back much so I`ll never know when that will be .

• Canada
13 Feb 07
I like this recipe too...but I don't add the raisins..I'm so not a raisin person. And I believe that when it says 6 servings, it means for 6 of those bimbos that won't eat more than 3 calories a day..lol. I can eat it in about 2 - 3 sittings as well. Glad you liked :)