How can a mother save her son from being addicted to smoking?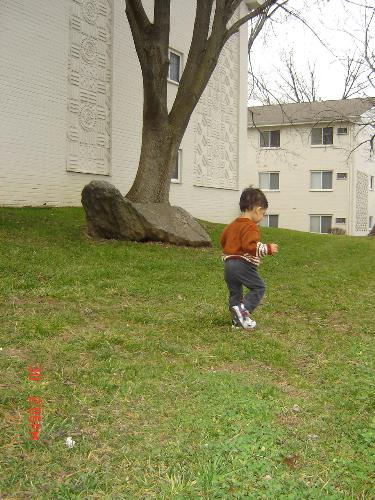 United States
February 13, 2007 10:31am CST
Hi, I have a small son and my husband smokes. However my husband is very careful and always smoke in the patio even in the snow season and try my son not to see him. He never keeps ciggerette or lighter visible to my son. But I still worry that how can I convince my son to be away from smoking?
5 responses

• United States
13 Feb 07
I dont smoke, but my mom and mother-in-law, both do. My son idolizes them both (he's 5) one day while at the store he picked out a lighter, because he wanted to smoke and be like his gramma. So we had a long talk about how while you smoke, it fills your lungs with that stuff, making it harder for you to run and play (he didn't like that idea). And I explained that even though they couldn't smell it. The smoke stays with you and it makes you stink (this he agreed too). So he asked me why they would it if they make you stink and you couldn't play alot. I told him once you start, your body wants it all the time, and it was harder for them to stop, and as you smoke you get sicker and sicker....The next time he saw his grandma he told her she had to quit smoking before she got sick. She laughed at him and assured she was fine. A little while after that she ended up in the hospital, and is on oxygen full time now. So my son keeps telling her "I love you gramma, but I told you so." I'm thinking this will leave a lasting effect on him...I hope.

• United States
13 Feb 07
That's a tricky question. As parents, we want only the best life for our children. We don't smoke and when we're near people who do, something inside of me wants to treat them like the plauge. After all, they are polluting the air I breath...and the air my babies are breathing. The dangers of smoking is out of this world. Why anyone would want to put that garbage inside their lungs is beyond me. Everytime I tell a smoker, "I've never lit up once in my life!" they tell me, "Don't start." Why would they say that? My mother smoked when I was a child, then she gave it up for Lent. After that, she quit. Sometimes, she misses it, but she smells better. I don't think convincing your son to stay away from smoking is the your issue; your issue is convincing your husband to quit. I have some links to help people with their addictions. If you want, just message me and I'll get them and the information over to you.

• United States
13 Feb 07
actually i suggest u let ur son see him smoking! when i was little my dad smoked and i totally despised it! didnt understand why he would do such a nasty thing! it wasnt until i was not around it anymore that i started to smoke.. i didnt have that constant reminder of how horrible it is around me anymore! ive also seen this in some of my friends as well.. the parents smoke and they do not! also educate him on how horrible it is.. as well as expensive!

• United Arab Emirates
14 Feb 07
Im not sure about this but you can try it, by the way, how old is your son??? (Mine is 10 months old.His name is Jon Zaccary) Ok back to your topic, why not try showing him some really gross pictures of sick people bec of smoking. That can turn him off, but sadly it could also traumatized him and hate smokers all his life. But then who knows?

• Philippines
14 Feb 07
You just have to tell your son the negative effects of smoking.. As parents ofcourse we want what's best for our children.. At a young age that's the time we teach them what's right and wrong.. Hoping when they grew up , they will choose to do the right thing.. Being honest is the most importatn thing.