Prince was my first- How about you?


United States
February 13, 2007 5:55pm CST
Watching Prince perform at the superbowl halftime show a couple weeks back brought back memories of my very first concert experience. The first artist I saw in concert was Prince in Baton Rouge Louisiana in 1982, I was 14 years old. Prince was amazing and quite sexy in concert. He had a brass bed that came down onto the stage from the ceiling. The stuff he did after that made my mouth drop!! I was with my 18 year old cousin so I tried to be cool about it..I will never forget that concert. The concert was also memorable because of Morris Day and the Time who I thought almost stole the show from Prince!! What group or artist as your first live concert experience? Anything memorable happen?
5 responses

• United States
14 Feb 07
Oh you have brought back a fond fond memory. I was 12 years old and "Gary Lewis and the Playboys" were in concert at our county fair. For you "kids" out there, Gary is the son of Jerry Lewis the comedian. I went to the concert with my mom and a neighbor girl that babysat my younger sisters. I was setting on the aisle and during one song Gary came off the stage and walked down the aisle singing, when he passed by me he patted me on the shoulder. I almost fainted and my Mom was so sweet, she reached over and put her arm around me whispering in my ear "It'll be ok Faith". She wasn't so sweet for the next week when I didn't want to take a bath and wash my shoulder Gary had patted.

• United States
14 Feb 07
Oh you lucky girl!!! My husband has mentined this group a couple of times. I think he liked some of their songs. You made me think of another memory I went to a "New Edition"(early 80's boy band with Bobby Brown)concert a couple of years later with some girlfriends from school and when the lead singer,Ralp Tresvant pointed at a girl in our row(one of us of course) we fussed over which one of us he actually pointed at!! I went home and told my mom that I would marry him someday!!!

• United States
21 Feb 07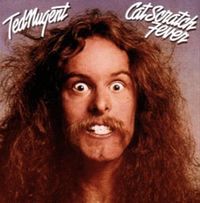 My first concert was Ted Nugent. I had so much fun. It was one of the best concerts I attended. I wore the concert tshirt for years after. I eventually had to throw it out. It was worn thin.

•
21 Feb 07
My first,and best concert to date has to be Usher,we got the tickets months in advance, and the build up to the actually show was insane.I went with 3 other girls,and we were bordering on obsessed.It was amazing,the routines,the singing,and also i suppose because it was the first made the occassion truly unforgettable.The only downer was that it ended,and i must admit,I was way too sad that it was over

• Hyderabad, India
14 Feb 07
I dream of you, my Prince. The memory of you still haunts me

• United States
26 Feb 07
WOW! I'd love to see Prince. I've loved him since Purple Rain came out in the 80's. I had Morris Day and the Time too. Really like Jungle Love!!! The most memorable show for me would have to be, and don't laugh, Elton John and Billy Joel 2 years ago. I've listened to Elton John my whole life because of my parents, aunts, uncles etc...and my huband finally got us tickets to a sold out show in Milwaukee a few years ago. After seeing a whole lot of my favorite bands they were kinda the icing on the cake.