Looking for new Peanut butter recipes

United States
4 responses

• United States
15 Feb 07
Have you ever made potato candy? You boil a small to medium potato. After it is boiled mash it fine and mix in confectioners sugar until it forms a dough. After the dough has formed roll it out and spread on peanut butter (amount desired). Roll into log shape and slice into discs. This is very good but really sweet.

• United States
16 Feb 07
That sounds diferent but yummy, thank you, I will try it !

• United States
15 Feb 07
Definitely try Googling "Peanut butter cream cheese pie", because I've made a couple of versions of this pie and they've all been great! Very decadent and satisfying! It often contains a layer of fudge or chocolate on the pie, so it's just like a giant Reese's peanut butter cup!

• United States
16 Feb 07
That is actualy one of my hubbys favorite ! I make that one on special ocasions for him.

•
14 Feb 07
here is a mouthwatering one i have tried and tested..hope you like it..good luck!! Peanut Butter layer * 1 cup peanut butter (crunchy) * 1- 8 oz. cream cheese (softened) * 1/2 cup milk * 1 cup sugar * 1 tsp vanilla Chocolate layer * 1/2 cup crushed salted peanuts * 2 cups sugar * 1 cup oil * 3 eggs * 1/2 tsp baking powder * 1 1/2 cups plain flour * 2/3 cup powdered cocoa * 1/4 cup water * 2 tsp vanilla Directions: Preheat oven to 350°. Thoroughly grease bottom of 9X13 pan. Mix ingredients for chocolate layer in large bowl with wooden spoon and pour half of mixture into prepared pan. Set aside. With electric mixer, beat cream cheese till smooth. Add peanut butter and beat till well incorporated. Add all other ingredients for peanut butter layer. Spoon peanut butter mixture over chocolate layer and spread to edges of pan. Carefully spoon the last half of chocolate mixture over peanut butter layer, making sure that the entire second layer is covered. Bake in preheated oven for 35 minutes or till inserted knife comes out clean. Remove from oven and pour one cup each of peanut butter and semisweet chocolate morsels over hot cake. Let melt and then spread with spoon to cover top of cake. Serving suggestions: Cool completely and cut into bars OR cut while still warm and serve with ice cream.

• United States
14 Feb 07
That sounds so good, I have a peanut butter cheese cake recipe that he loves, this will make a nice adition to the PB section of the cook book. I guess I am going to have to make a peant butter buffet for him. Thanks so much !

•
14 Feb 07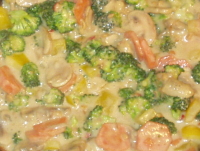 I have a couple of peanut butter recipes on my website that you might like to try. Fried Peanut Butter Sandwiches - http://www.recipesforvegans.co.uk/friedpeanutbuttersandwiches.html These can be cut into heart shapes to make them more romantic. Spicy Satay Vegetables - http://www.recipesforvegans.co.uk/spicysatayvegetables.html

• United States
14 Feb 07
He loves fried food too, I will have to try this thanks !