Have you seen the movie CLICK?


India
5 responses


• United States
14 Feb 07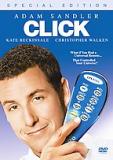 Yes I just saw this movie two nights ago. It is awesome and I lOVE Adam Sandler in any movie. I would love to have a remote like the one he had. Yes a very good lesson for those in a hurry and who only think about work.



• Malaysia
15 Feb 07
Oh no, I haven't watched it yet. I'm sure it's nice cos Adam Sandler's starring in it. He's a very funny actor.