What's the best thing, to you, about being a caregiver?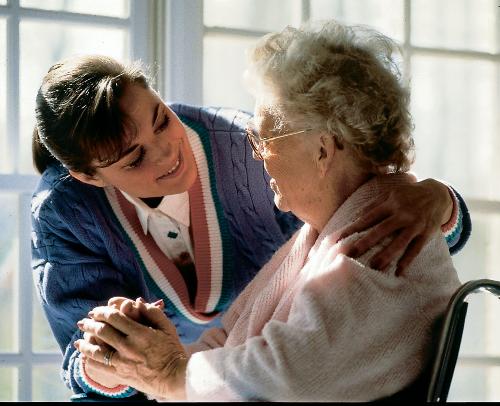 United States
5 responses

• Philippines
15 Feb 07
the best thing for me about being a caregiver is that i can spend some time exchanging opinions and ask for wisdom with them.

• United States
15 Feb 07
Yes, I can also relate to that! Their knowledge is worth millions!

• United States
16 Feb 07
The best thing is knowing that you 'gave back' to someone who likely 'gave' plenty in their younger years (when speaking about the elderly). There are so many rewards in caregiving that I am at a loss to even begin to list them. I love the following little poem about being a nurse, (which of course is a caregiver)it sums up caregiving to me! The author is unknown. What It's Like Being a Nurse: 1. You will never be bored. You will always be frustrated. 2. You will be surrounded by challenges. So much to do and so little time. 3. You will carry immense responsibility and very little authority. 4. You will step into people's lives and you will make a difference. 5. Some will bless you. 6. Some will curse you. 7.You will see people at their worst-- and at their best. 8.You will never ceased to be amazed at people's capacity for Love, Courage, and Endurance. 9.You will see life begin--and end. 10. You will experience resounding triumphs and devasting failures. 11. You will cry a lot. 12. You will laugh a lot. 13. You will know what it is to be human and to be humane. ( This cannot be said any better. I cannot take credit for writing this,the author is unknown.)

• United States
17 Feb 07
I am going to copy this, it's awesome!

• United States
17 Feb 07
I know! I give it to all my nursing students as I think it sums up what nursing is really like. I wouldn't change my profession for any amount of money ...no mater how much 'more' I could make doing something else. No amount of money is equal to the look in someone's eyes as you help them.

• United States
17 Feb 07
Awww... Someone that shares my feelings...**HUGS**


• United States
12 Nov 08
I have been my fathers caregiver for 5 years now. The best thing is the respect I get from him for all my hard work and time I put into basically raising him now. He is 84 with heart problems, prostate problems, and a few other things. I keep him going to the Dr for check ups often and see to it that his needs are met as well as they can or need to be met. HAPPY POSTINGS FROM GRANDPA BOB!!~

• Jamaica
27 Oct 08
I have been a caregiver for the past ten years working in a nursing home , there are a lot of elderly people that i have taken care of during my ten years of working. My patients are my first priority, they must be comfortable at all times and feel love. For me no patient is too difficult for me to take care of ,there are certain techniques that should be demostrated when taking care of a patient especially Alzheimer's, A caregiver should be their patient or patients best friend,when they see or hear you they have a joyous feeling!happy to see you.

• United States
18 Feb 07
I have never had the job of being a caregiver...except to my kids. I was in a nursing home for 8 months 2 years ago. After I could get around I spent lots of time with the elderly. I still go back and see a couple of them. I am always so scared they will be "gone" the next time I visit. One of them told their daughter that I was her best friend.