Hits4Pay...Just got my check in the mail today!!!!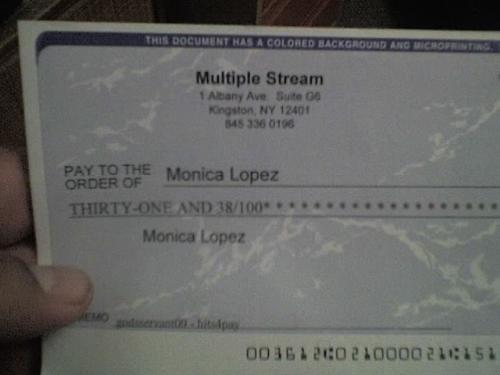 United States
February 15, 2007 8:43pm CST
So yes, it does work! Obviously, I got my check in the mail today! I am so excited. So I had to share with you all who had doubts about the site. Yes it does take a long time... if you are just checking the ads and don't have any referrals that is. I finally figured that out a month ago and got some family members to join and a couple people I don't even know just by posting an ad in my blog on myspace. So I had 7 referrals since than and the money went up fast! So if you want to know, I only got 31.38, but, now I'm shooting for getting more referrals since I know it works. Alot of my friends wanted to see proof first before they joined so I now have it:) So those of you who know alot of people online and are good at getting referrals or just are good at knowing where to post ads, you can definitely make money. Like I said I only have 7 and 5 actively checked their ads. I guess the others gave up or don't really check them. My goal though now is to atleast have 20 more people sign up, even more if I post on free sites. You don't have to do anything but click on the ads, don't have to even read them. Each one takes about 20 seconds or so and you don't even have to check them everyday. I usually check them daily though while I'm here on my lot. It doesn't cost anything and they put 10.00 into your account as soon as you sign up. I think the most ads I've gotten is 10 in a day and each is .02. But you get .01 cents for every ad your referral reads and you get payed for every person they refer! There will be a day or two sometimes where I won't get any ads but I think it is well worth it because it doesn't even take but a few minutes out of your day to check them. If you want the link feel free to look on my page. Good luck and thanks for looking!
2 responses

• United States
16 Feb 07

Hey thanks alot for posting and letting us know. I am a member of hits4pay also, it took a VERY long time for me to get to the $25 mark but I finally did after many months. they finaly cleared my payment and I am supposed to be recieving a check but I was still kinda wondering if they would really send it so your post gives me hope! lol hopefully I will get it soon. let me know if you have any trouble cashing it..

• United States
16 Feb 07
Actually I just took it to my bank yesterday and put it into my account, so there were no problems. I know I could not wait to see if it would really come in the mail and as soon as it did I had to run and call my husband. This is the first time I've got a check from doing stuff online so I'm so excited about trying to join more sites. I can't wait to get payed from mylot, that's what I'm really looking forward to now! Thanks and goodluck making money!

• United States
16 Feb 07
oh, I know you will for sure get the mylot pay.. I have been paid from here 2 times now.. if ya know of any more real paying sites let me know.. I can always use the extra money, I have 3 kids so it comes in handy lol..

• United States
16 Feb 07
I almost forgot, here's another one. You do surveys and they pay you or give you points and enter you into money drawings. I don't ever do those surveys, only the ones that pay you. I did one 4 weeks ago about beverages, took about 20-30 minutes and I'm getting a check in the mail any day now for 20.00! So you might be interested in that. http://www.surveyspot.com/home.shtml

• Canada
16 Feb 07
good for you. I joined them quite awhile ago but it takes forever to reach payout. When I joined you get 10.00 free and the minimum payout is 25.00. I might be at about 16 something but they don't send me very many so it really does take a long time. Glad you got yours though.

• United States
16 Feb 07
Thankyou and good luck to you, hope you get your check soon!