Ouija Board - Is it dangerous or just a fun game???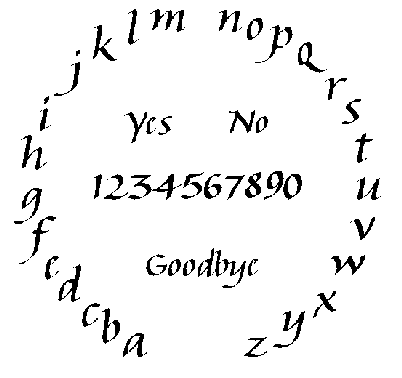 India
February 16, 2007 6:25am CST
Ouija Board - It is a piece of wood or cardboard with the letters of the alphabet, numbers from 0 to 9, words such as "yes", "no", "may be", inscribed in a half-moon along the edge. A coin or some sort of pointer is manipulated by those using the board. The user calls the spirit and asks him a question. The pointer automatically moves on the letters. This spell out an answer to the question. Skeptics believe that those using that board either consiously or unconsiously select what is read. But I think some paranormal or supernatural forces are working behind this. What do u think of this? U can add some experiences if any.
5 responses


• United States
18 Feb 07
The answer to this question is, yes it is dangerous, no it is not dangerous, yes it is a just a game, no it is more than a game. and it is both. It depends on the people involved. I have known those who have horror stories two people who were haunted for years but such a negative entity from their "playing" with a Ouija board that it was something you could notice around them. I myself have used a ouija board with no negative effects at all. Either I was very protected even before I knew how to keep myself protected or I just got lucky. Any kind of mediumship should not be taken lightly, whether it is ouija board, automatic writing, or seance. There is always the potential to open up to something negative. Here is a clue, if when doing this, if you feel uncomfortable, if there is fear, doubt, if the responses are negative in a way that is other than a yes or no answer such as putting you down, or holding you back, then you are communicating with something you do not want to deal with. If you are unsure don't do it. If you do not know how to first sheild and protect yourself or if there is the chance that those around you may draw negative entities to the session, don't do it. This like anything is something that needs to be learned in a safe way. First learn about mediations. Then learn about protecting yourself. There is a book called psychic self defense that may help. Start with a prayer to what ever your faith may be, for guidence, protection, and accuracy, and positive experience, that the best for you is what will be. one person I know of has been haunted his entire life he began playing when he was a boy around 12, at first he thought it was a positive entity who was there to help and advise, but in time this entity became demanding, wanting freedom, and eventually would gain its freedom. It has followed him throgh out his life. Another young woman I knew of had begun seeing a dark shadow in her home, occassionaly felt a heavy weight like something was trying to stop her breathing. She burned the ouija board, so that it could not get completely free and this ended her experiences. For me we had 3 ouija boards, I could get them to work and answer questions, but for some odd reason they would disappear. I didn't throw them away but they would just not be around anymore. One time the box was where I left it but the board and planchette were gone. I have no idea why this happens, to me, just that I am taking it as a sign to not bother getting another one. Since I am so protected I am think it is that protection which has caused the disappearance of the boards.

• United States
17 Feb 07
Based on personal experience and years of study, a ouija board can be a very dangerous instrument of paranormal activity. When one deals with spirits, you are NOT in control of the situation. Although you may have ask to speak with nana Hazel, a very dark spirit will use this calling to 'come through'. And once they have entered our plane of existance, it is VERY difficult to send them back. It's hard to comprehend how a plain piece of board and plastic can open a gateway to hades, but it can and does on a regular basis. So, unless you're willing to take the chance, I would say destroy the board (break into pieces then burn) and learn how to talk to the spirits a different way.

• United States
18 Feb 07
The different way I referred to is really quite simple and can be found in a variety of places. In a nut shell, you first have to have a belief in a higher power. Clear your mind of all clutter and say a mantra of your design (I use this one: 'power of white, power of might, power of right, power of God and Jesus Christ, fill me with your golden light'). This assures that only good spirits will visit. Use only white candles. Then concentrate on only good and hopefully you'll be able to make contact. If you have a symbol of your belief system, wear it or have it near as proof of your belief and things will go fine. Any other questions, feel free to ask. I've been doing this for thirty years and have never had a bad/evil spirit come through. It was only when, in my teens, a group of friends and I used the ouija board that there was problems. Blessed be and God bless!

• United States
3 Mar 08
I don't think it's dangerous. It's just a fun game to play wit a bunch of ppl n try to get spirits if u believe in them...I love the board game!

• United States
1 Sep 07
i know this is kind of an old discussion but i had a "ouija" board game from parker brothers believe it or not, and played around with it with a weird friend of mine back when i was 10 or 11. nothing real out of the ordinary happened, but, my friend asked to speak to her father who had killed himself a few years back and when the hand held reader spelled out her name i just freaked out. i think she may have done it for shock value, but i threw out the game the next day.