make money online,brand new: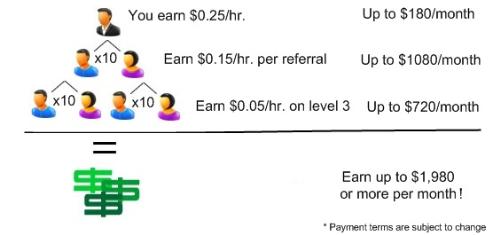 Italy
February 16, 2007 6:42am CST
i think it is just the best at this moment,and its not only promises,like ALOGO.You start to make money just right now: http://www.slashmysearch.com/earn/id/1922 You earn money by actively using SlashMySearch.com. Earn money by setting SlashMySearch.com as your homepage (you can do this on more than one computer, but you must login atleast once on each new computer). Earn even more money by using SlashMySearch.com as your primary search engine, the more you search the more you make, its that simple! You will be checked for activity a few times per hour and credited for each segment. Any page on SlashMySearch.com will count towards your credit. Remember to use SlashMySearch.com every time you search and every time you are looking for anything on the internet. Great refferal system,see my image the referal map You get paid for three levels, meaning you get unlimited extra money from everyone you refer and another amount for each referral those people get. You never have to refer anyone, however, referring people will increase your earnings. Regardless of referrals, you will still be paid.
2 responses

• United States
19 Feb 07
I hate to burst your bubble but this site takes forever to earn. You do need referrals like any other site. At least with mylot, you can get paid just by posting. I find that with slashmysearch, all I do is use their search engine and come out with a measely 37 cents a day.

• Italy
28 Feb 07
how come you can say that it takes forever to earn?i got 15 dollars in my account and i made it very quicly!

• Italy
11 Mar 07
well,you are right..i checked it and i get paid lower amount then before...but i still get paid,so its ok

• United States
16 Feb 07
tHis sound interesting. I might try this one out. Have you been paid already?

• Italy
16 Feb 07
not yet,but very soon i am going to reach my payout...its so easy!in two days i have made about 8 dollars wihout doing nothing...