Comfort Food Recipes - It's Been a Long Week!

United States
February 16, 2007 11:18am CST
Hi! This has been a long, stressful week for my family. We are ready for the weekend to just relax! I was wondering if anyone had any great ideas for comfort food meals I could make this weekend? Something to make us all feel better. Maybe something with chicken, noodles, and cheese? What do you make for your family when you need to recoup from a hard week? Thanks! :-)
8 responses

•
16 Feb 07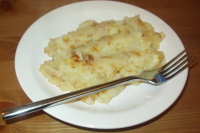 I actually like potatoes for my comfort food. I like fried mashed potatoes the best. If you are interested in the recipe you can find it here: http://www.recipesforvegans.co.uk/friedmashedpotato.html

• United States
16 Feb 07
Hi! Oh, that looks wonderful! I think that could replace hash browns for my family! Yummy! Thanks for posting this! I'm an absolute mashed potato addict! :-)

•
16 Feb 07
I am really bad for comfort foods, I love thick stews with dumplings and yorkshire puddings. Spaghetti bolognaise, homemade pie of any kind with chis or roast potatoes. Rice pudding , fruit pies or crumble and custard. I like to experiament a bit too. This week I was getting really low in my food cupboard. I had some cooked chicken from the day before so I chopped it up added a few frozen peas, 2 tins of macaroni cheese (real emergency rations form the back of the cupboard lol) and a packet of puff pastry. I put the pie (pastry lid only - it's healtier) in the oven on 200 degrees until the puff pastry was puffed up and golden. I made some mediteranian vegetables in the oven and dreade teatime. Amazingly the sauce stayed thick and Shrek and the boys loved it.

• United States
16 Feb 07
dumplings and rice pudding are two of my favorite comfort foods too

• United States
16 Feb 07
Hi! Rainbow, I made a custard pie the other day, but it didn't turn out very well. :-( Back to the drawing board on that one. :-) I love dumplings, too. I wish I could make the homemade ones my mother made when we were little kids! :-)

• United States
23 Feb 07
I would boil up some of your favorite pasta, and drain and put into a bowl. Then I would sautee some chicken cutlets in butter, then cut up and mix with pasta. Then I would take some tomatoe sause and velveta or am. cheese and butter and garlic, melt it together and mix it with the pasta and chicken. It's so good.

• United States
25 Feb 07
Hi! Thanks! Both of these recipes sound awesome! I'm copying them to my recipe file now! Yummy!

• Canada
16 Feb 07
I'm big on making homemade soups. The kind you start in the morning and just let simmer all day. The house smells terrific and I find it relaxing to know that I'm making a healthy dish for the family without having to slave in the kitchen. If your planning with chicken and noodles - soup is a good bet. Whenever I make homemade soup, I serve it with sour cream and grated cheese in the bottom of the bowl and then pour the hot soup over it so the cheese is all melty. My kids love it that way.

• United States
18 Feb 07
Hi! That sounds great! I've never heard of putting sour cream and grated cheese in the bottom of the bowl - sounds awesome! I'll try that! :-)

• Canada
16 Feb 07
I tend to go with something easy. And its something my dad used to make for us from time to time so the memories are nice. He used to call it garbage, but you can call it what you like, I've heard it refered to as Chili Mac, but it doesn't necessarily have to be chili really. Basically it is a great fridge cleaning recipe as well. You take some macaroni elbow noodles and cook them according to directions, drain the bowl and add pretty much anything starting with tomato sauce and whatever else you have. I find it's a great way to get rid of the leftover chili (thus the Chili Mac name), garnish with cheese and serve. Basically you can put any combination of things in it but here are some suggestions: Baked beans kindey beans ground beef ground chicken ground turkey mushrooms (any type) green/red/yellow/orange peppers zuccini stewed tomatoes tomato sauce peas left over spagetti sauce (meat sauce or vegi is fine) corn really the possibilities are endless, and because my dad never made it the same way twice he called it garbage because everything in it was either into the meal or into the garbage LOL, all leftovers.

• United States
16 Feb 07
Hi! This sounds awesome! I used to make goulash a lot (or at least an american version of it, not authentic goulash) and this sounds quite a bit like what we would put in it - elbow macaroni, tomato sauce, ground beef. Yummy! Thanks for reminding me! :-)

• Canada
25 Feb 07
Well if you like macaroni, pizza and lots of cheese, you might like this!! Also, you can play around with the recipe a bit too if desired. All you do is make a box of kraft macaroni and cheese as you normally would, and put this ontop of a sauced pre-made pizza shell. Ontop of the macaroni you can add basically anything you want, we do mushrooms, pineapple, pepperoni and tons of cheese!! Throw in the oven till it's done how you want it and enjoy!

• United States
25 Feb 07
Hi! Thanks for the great idea! My daughter would absolutely be thrilled at the idea of making pizza with macaroni and cheese! Actually, it's all she'll eat right now, so it might make a nice change for us! :-)

• United States
24 Feb 07
I love to cook and experiment. Not Tommy Fries But peel some tatoes', dice them into cubes, and boil them till just tender. butter the bottom of a baking dish and drain tatoes'. Layer tatoes' some pats of butter, shredded cheese, and some ranch dressing with some salt and pepper. Bake at 450 for about 15-25 minutes till golden brown. Cheezy Wonders some totitos scoops, salsa, cheese, and peppers if you like. Fill up some scoops and layer them on a cookie sheet and bake for about 10 minutes. Cubed cheese steak Some cube steak, A - 1 sauce, mozerella cheese and onions and mushrooms. Take and pan cook cube steak, add some onions and mushrooms Kinda saute in the same pan, put some a 1 on top with some cheese and let the cheese melt. MMMMMMMMMM. I have a ton of them. Enjoy and I hope these help they are easy and pretty quick!

• United States
25 Feb 07
Hi! These sound so good! It seems I'm always in a food rut, always fixing the same thing over and over, so I'm always looking for something new and unique to fix! I'm adding these to my recipe file! Any other recipes you'd care to share, I'd love to have them! Thanks! :-)

• Canada
17 Feb 07
Personally, I like to make up some chilly in the slowcooker or put together a nice shepherds pie... But, if you are looking for chicken noodles and cheese...Here's a recipe for you to try: Four Cheese Chicken Casserol Rotini Noodles Chicken (Cooked and cut into small pieces or short strips) Four Cheese Pasta Sauce ( you will find this in a glass jar in the isle where the pastas are) Shredded Mozzarella Cheese Pre boil your noodles and cook and cut up your chicken. Then, mix your pasta and sauce together in a large casserol dish and place your pieces of chicken on top of the pasta. Before you add the chicken you may want to add a little water so that it doesn't dry out in the oven. Next, cover the chicken with the shredded mozzarella and place in a 350F oven untill itishotand bubbly and the cheese is nicely melted and slightly browned. I have even taken this to pot lucks and it is always a hit! It is something I stumbled upon when I was throwing things together one day. Sometimes I even add mushrooms and green peppers to the pasta and sauce but these are optional. Enjoy!:)

• United States
18 Feb 07
Hi! Thanks for the awesome recipe! That sounds just like the kind of thing my family goes for! Even my little girl would eat this! Thanks again! :-)