Favorite cat celebrity

United States
5 responses

• Canada
8 Mar 07
I like Garfield. He is orange and got big eyes it looks like he is always sleepy. He also moves very slow it's so funny

• United States
8 Mar 07
How can you not loke Garfield,lol! He's slow in body but quick with the wit

• United States
8 Mar 07
I see that this discussion is 3 weeks in the making but it was at the top of my friends discussion list and you are probably getting to know that I am always behind LMAO But I still like to leave my impression (opinions) as I have many many of them :)) OKAY back to point at hand my favorite cat personality is Elsa from Born Free, I loved that movie as a teen ager and still enjoy it today... And Oh gosh I can not forget Battle Cat from He-man my oldest son lived and breathed He-man so I am quite fond of Battle Cat.

• United States
8 Mar 07
Better late than never I always say,lol! I remember Elsa quite well. I saw the movie several times when I was a kid and I still love the song. I also remember Battle-cat .I like the he-man cartoons and loved that pussycat.I also loved the thundercats-don't know if your son ever watched that one

• Philippines
17 Feb 07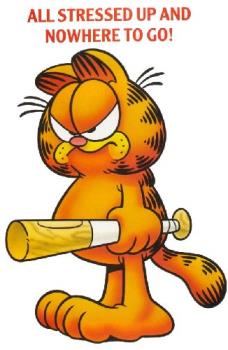 i like garfield but not that quite. though i love cats. we have a cat at home and he is such a loving pet, so cute. hope more and more people will be pet lovers

• United States
17 Feb 07
Those non pet owners don't know what they are missing!To me ,a house without pets is an empty one as I'm sure you will agree.Say hi to your kitty for me!

• Philippines
17 Feb 07
Oh, I love Garfield. He is so fat and moves so slow (because he is very fat). How I wish I can have a cat just like that.

• United States
17 Feb 07
I think Garfield is definitely the best cat celebrity and is my favorite. I love Garfield. I like the other ones too but I prefer Garfield. I think Garfield is more commonly known than the other cats.

• United States
17 Feb 07
Great minds think a like ken! Garfield rules.I prefer the cartoons but thought Bill Murray did a great job doing Garfield in the live action.Wish they would get a full length animated Garfield movie