does any kind of TEA good for dieting & losing weight???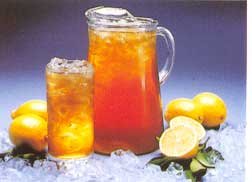 Philippines
February 16, 2007 10:02pm CST
my friend., said it does., because of her frequent drinking of a tea., any kind of tea., she loses 3lbs already... do you think it really does help you lose up weight?! but it also contains caffeine., is it good or as well as bad like the coffee?! and would drinking tea hot would help losen up that weight., or cold as well, may do?!
3 responses

• United States
17 Feb 07
I drink diet green tea and it is very good for you. The caffeine is not all that high. Coffee is not bad for you according to this link: http://www.mylot.com/w/discussions/780897.aspx

• Philippines
18 Feb 07
really friend., thank you for the idea...well appreciated!

• Philippines
17 Feb 07
me i love to drink tea...

• Australia
17 Feb 07
Yes tea is good for you, I usually use herbal tea for this not just any tea, that is good that your friend has been able to lose 3lbs already but I do not think that this is only due to the tea that she is drinking as for myself I have lost weight about 8lb since Christmas time and this is due to my diebetes, that I have to lose the weight. Water is the best for losing weight and that is why the tea could be working for her but you have to be careful what you put in the tea that is why I only drink the above.

• Philippines
17 Feb 07
thanks soi much for all the responses my friend... mhuahx