Why Do Men Have Skid Marks In Their Underwears???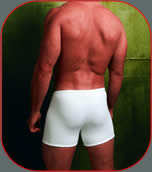 United States
5 responses

• United States
17 Feb 07
I don't know why some men have skid marks on their underwear. Some may not clean during the day or they might not know to clean. But some women have the marks also. So we just need to take the time to do some spot cleaning.


• United States
17 Feb 07
eew lol! that has got to be one of the grossest things that men do. i was seeing a guy once and we went to do laundry together at the laundry mat. i was loading his clothes and came across "skid marks" which totally grossed me out! i mean if he just cant afford the extra minute or two to wipe himself clean after using the bathroom, what else doesnt he clean??! i didnt even know what to say to him..i asked if he wanted to use some of my stain remover and he said "nah, the stain will just be there again after i wear them" YUCK!! to say the least, we broke up about 4 days later. LOL i just couldt not deal with that.

• United States
17 Feb 07
OMG that is completely disgusting!! LOL!

• United States
17 Feb 07
Probably for the same reason (some) men can't be bothered to wash their feet when they take a shower. It's "out of sight, out of mind". It's not something they (care to) spend a lot of time on.

• Philippines
17 Feb 07
Maybe their thingymabobs are too big that they can't reach and clean their behinds properly. Or they're just too lazy to do it. lol