Ghost rider

United States
February 17, 2007 10:22pm CST
I just took the kids out to see this movie and it was really good Nicholas Cage was excellent and the movie kept the kids attention the whole time. They even talked about it for hours afterwards. What movies do you recommend or have been a favorite
7 responses

• Palatka, Florida
18 Feb 07
I really want to see this movie myself. Thank you for posting about it. I know I also want to see Spiderman 3 and Harry Potter and the Order of Phinex .

• United States
18 Feb 07
My husband really wants to see spiderman 3. I had been waiting for ghost rider because the previews were good but the movie was actually as good as the previews. Shocking sometimes LOL

• United States
18 Feb 07
You'll have to let me know what you think of it. I just saw the previews for spiderman 3 do you know when it is coming out?


• United States
4 Mar 07
You should really get out and see this one or rent it when it comes out. It was a really good movie. He was great in it.

• Defiance, Ohio
18 Feb 07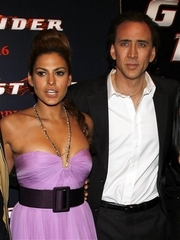 I just seen ghost rider last night. I thought it was an awesome movie. But than again I am bias. As I am a big Nicholas Cage fan. Ever since he came out with Raising Arizona.

• United States
19 Feb 07
He is a very good actor. I have always liked him also.

• United States
18 Feb 07
Awesome! I just posted I was going to see this tommrow it should be good. I have been waiting to go see a good movie, and finally Ghost Rider comes out. Im already excited and it's a day behind.

• United States
18 Feb 07
I am sure you will enjoy it. It has been a long time since I have enjoyed a movie. Have fun.


• United States
8 Mar 07
That is good news I was wondering about this movie

• Romania
6 Mar 07
i hear that Goht Rider its going to be a blast...but i dont se that movie...i dont why!:P