does your dog have a favourite food?

7 responses

•
18 Feb 07
My labs favorite food is green beans, he likes hot dogs ok too. But goes nuts over green beans!

•
18 Feb 07
that is completely new on me, as far as i know it is only meat that drives labs mad

•
18 Feb 07
I've never seen one like him either, but he loves them. I know some people give them to dogs to help lose weight (help the dog feel full without extra calories) and most dogs will eat them, but not LOVE them, like mine does.

• Italy
26 Feb 07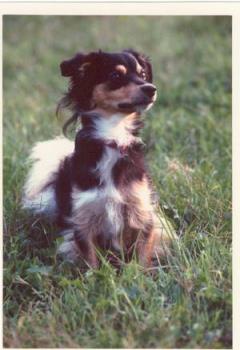 Creed both the arrost chicken, but well giving the dogs our too fat and salted food does not go, mine adores the chocolate, but for him, a little piece is poison, at times, but little, I know it look at you with languishing eyes, but we must be hard or they fall ill.

•
26 Feb 07
i certainly agree about the chocolate, nero gets one chocolate biscuit when we have them, lol it doesnt do him any good but he loves em. Blessed be and thankyou for your response

• Kuwait
18 Feb 07
Yes....:) ther is, he want's chicken, hotdog sausage and beef -x. But... if you give him a dog food he don't like.

•
18 Feb 07
probanly too full from eating all the other goodies you give him lol blessed be

• United Kingdom
18 Feb 07
My Dog absolutely loves Ham and I mean he loves it. He always knows where I keep it and when I go into the Kitchen he will follow me and sit nice in front of the Fridge, I actually buy him a packet of Ham each time I go shopping just for him.

•
18 Feb 07
thats about right i know the feeling well, blessed be

• Italy
18 Feb 07
my dog loves brace meat! when he see my father in the garden that cook the meat he go there and sit down next to my father waiting that him give somethin to him! he's so lovely and his eyes become like star that ask u somthin and u can't say NO

•
18 Feb 07
haha yes i know that feeling, we have a labrador, they are past masters at using their eyes