britney spears shaved her head??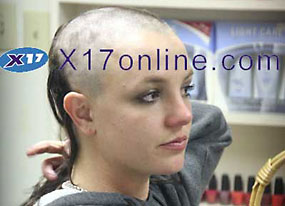 United States
February 18, 2007 2:29pm CST
Why on earth would Britney Spears decide one day to just shave her hair off? It's she losing it? I'm not a big fan of the chick to negin with but this story seems to interest me. It is said that she is rebelling, come on. She's an adult, not a 15 year old child. What do you think about the situation?
8 responses

• United States
19 Feb 07
This is one of those things that a person can do who can't handle fame and fortune and would turn to lots of vices. This is a closer step in going into a breakdown. Another sob story.

• United States
18 Feb 07
It says a lot that out of all the female celebrities that have shaved their heads - and there have been a lot of them - it's Britney that gets all the attention. As for rebelling, isn't it normal for celebrities to rebel against their pre-set image when they enter a new stage in their life? Dozens of celebrities have done it. They rebel against the status quo and the media guidelines and their own image all the time.


• United States
18 Feb 07
I have no clue as to why she did that. I think she looks horrible now. I am a woman and I would never do that to myself. A shaved head on a man looks alright but a woman. I think that is the craziest thing.

•
18 Feb 07
IMO I think she is just in real need of attention. I seen it last night on the news, and questioned why I was seeing THAT before the weather, somthing of more importance.

•
18 Feb 07
what a great publicity stunt for someone who has been out of the headlines for a few weeks. More power to her