can you recommend me a movie?

Philippines
7 responses

• United States
19 Feb 07
Some that deal with a moral lesson? I'd check out Sleepers. Has a lot of moral dilemas in it and I think gives some lessons as well. Either way its a great drama movie with some great actors like Brad Pitt, Robert Di Niro, and Dustin Hoffman. Here is a link for it: http://www.imdb.com/title/tt0117665/ I'd also recommend A Time To Kill. It's another one with a lot of moral issues and dilemas in it that might be something you'd like for your project. Another good drama with excellent actors in it. http://www.imdb.com/title/tt0117913/ Hope you enjoy them.

• Canada
19 Feb 07
If you are looking for a movie with a moral lesson,try NightJohn.....it's an older movie,I believe the early to mid 90's but it's an excellent movie about the revolution of slavery and what this man did to help his people and the consequences.....my daughter had to do a project for school as well and she chose this one and did a great review onit.....you can learn so much from it....hope this helps

• Canada
19 Feb 07
If you're into action drama, try blood diamond, black hawk down. Politics, All the kings men. Love story - serendipity, must love dogs. Comedy, wedding crashers. But try watching empire of the sun. great movie from spieldberg. it was from the 80's.

• India
8 Dec 12
Forrest Gump, The Shawshank Redemption, The Pursuit of Happyness, The Bucket List. Watch this movies .....

• India
19 Feb 07
I think you should watch the movie The Ghost And the Darkness if you haven't seen it yet it is a fantastic movie featuring Val Kilmer, Michael Douglas , It is based on a true story about Man-eating lions on a rampage in a remote place in Africa. It is a must - see movie.

• United States
19 Feb 07
A moral lesson? Well there id Good Fellas, crime doesn't pay. Flashdance and Fame, go for your dreams and don't give up. Scindler's List,all humans sholud be valued. To Kill A Mockingbird,racisism is wrong and destroys a community.Crossfire, anti-semitism is wrong. Inherit the Wind,humans have the right to think for themselves.And Guess Who? and Guess Who Is Coming to Dinner?, interracial marriage is okay.

• Philippines
19 Feb 07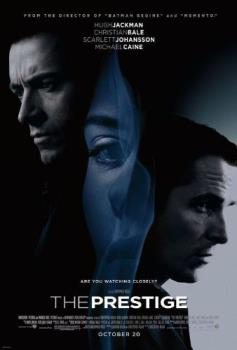 I would recommend The Prestige. This is a very simple movie and at times may come boring but there is an invaluable lesson that can be learned here. It tells us that while it is not bad to go for our dreams, too much of that drive may lead to obsession and obsession may drive away the people who loves us and in the end it may be the cause of our self-destruction.