Briney Spears BALD HEAD!


Philippines
February 18, 2007 9:48pm CST
LOS ANGELES, February 17, 2007 - Britney Spears appeared in a tattoo parlor in the San Fernando Valley with her head shaved completely bald. Eyewitness News shot video of the newly shorn Spears, with tiny tattoos on the back of her neck, sitting for a new tattoo, a pair of red and pink lips, on Friday night. "She just wanted something real small on her wrist, something dainty," Max Gott, the tattoo artist at Body and Soul in Sherman Oaks, said. "She got some cute little lips on her wrist." Derrik Snell, who works at the tattoo parlor, said Spears showed up without notice and stayed for about 90 minutes as about 60 fans, photographers and gawkers gathered outside. "She seemed fine," Snell said. "I didn't really notice (the hairdo) at first, she had a hood on when she showed up." Before heading to the tattoo parlor, Spears grabbed an electric clipper and shaved her own head at a San Fernando Valley salon Friday night, it was reported. "I tried to talk her out of it. I said, 'Are you sure you're not having a bad day and tomorrow you'll feel differently about it? Why don't we wait a little bit?"' salon owner Esther Tognozzi said. "She said, 'No, I absolutely want it shaved off now.' Next thing I know, she grabbed the buzzer and she went to the back of my salon and she was shaving off her own hair," Tognozzi said. The appearance came the same day as reports on TV and Web sites that Spears, who has drawn criticism for her recent partying and sloppy behavior, had briefly checked into rehab. Larry Rudolph, Spears' manager, couldn't be reached for comment. Angelique Uram, a Spears fan who stood on the tattoo parlor's sidewalk for Friday night's spectacle, was aghast at the singer's new look. "We could see her in the mirror, and her head is completely shaved," she said. "It looks terrible." Police arrived to control the crowd and helped Spears' bodyguards guide her into a waiting SUV, her head covered by a hooded sweatshirt. Copyright © 2007 KABC-TV and AP. All rights reserved. This material may not be published, broadcast, rewritten, or redistributed.
7 responses

• Philippines
19 Feb 07
I just hope she turns her life around if not for her atleast for her kids. I know a lot of young moms, some even younger than she is and they don't act like that. I don't know what came over Britney it seems there is so much hate in her. She is not my favorite singer but I do like her because she can perform well. I do hope she makes K-Fed see that she is much better without him than doing this . At the rate of her partying and spending well for her kids' sake I hope she doesn't go bankrupt at the age of 30.

• Philippines
20 Feb 07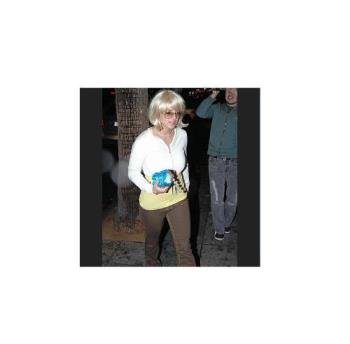 Yeah perhaps she is thinking about what she did now that she is sober. She covers her head now with a blond wig.

• United States
19 Feb 07

• Philippines
19 Feb 07
hehehe she nees to see a phychiatrist geeze! thnx for the resposce tho


• Canada
19 Feb 07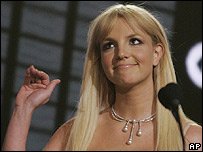 Ok my jaw dropped just looking at the picture. i attached one to compare how much better she looked before she tok those clippers.:P I kept thinking if its just fake or what for more responses and even more for more publicity for britney. I guess she made the whole bald is sexy look more like ugly:P She will definitely regret it.. Her beautiful long hair is now gone.:(

• Philippines
19 Feb 07
what! what the hell happen to britney! does she really gone mad? i think this affect also other people especially those teenagers and children who idolized her.

•
19 Feb 07
Yes I know about it a while back long and I think she is trying to make peoples `attracted` towards her! I means what the hell, this is not a proper way to get attention of us. Britney is gone crazy man! Anyhow, Britney is on air now :