Survivor Fiji - Early Predictions

United States
February 18, 2007 10:11pm CST
I know, we're only in week two of this season. I'm curious - who do you think will make it to the final three? Or...who would you *like* to see make it to final three? Could be two different sets of folks. I'm an early Sylvia fan. She rubs tribemates the wrong way because of her strong personality. It could be unfortunate for her. I'm hoping she catches on and starts "doing" rather than "appointing". She's pulling her weight...but terms like "I think we should (do this)" come across as bossy. And for the young'ns on the show, it's threatening. Especially coming from a woman. My next early fave is Yau-Man. Interestingly, both of these players are over 50 (rah rah rah). My third early fave is James/Boston/Rocky. Ooh, I'm such a fan. I'm excited to have mylot for these discussions. :D
4 responses

• Philippines
23 Feb 07
It is really hard to predict at this moment who will be the sole survivor but I am really hoping it will be one of the Ravu tribe members. I really like Michelle because she's doing well in the challenges and she even started a fire. I like Rocky too. Hope they win the challenges next episode.

• United States
23 Feb 07
I too am cheering for Ravu. I adore Rocky. He has a slight temper and every time he shows it, I can see his own disappointment. He has said he doesn't like to show his emotions. That's what makes him so endearing -- just trying to keep himself in check. I have a harder time liking Michelle only because of her eye-rolling toward Sylvia. Michelle is young - and I saw it as a daughter-mother kind of reaction. Instead of trying to work through it or deal with it, she was already over Sylvia before she returned from Exile that first time. Ironic that Sylvia is the one who streamlined the building process and organized everyone in those first few days. Sylvia also put two great teams together. She could have pitted people against each other when she was divvying up the tribes (like Rocky and Dreamz). Instead, she split them up to make for more peaceful living. I do have more fondness toward Michelle now after she started fire. She's physically fit, young and cute - so she should go far, sad to say.

• United States
22 Feb 07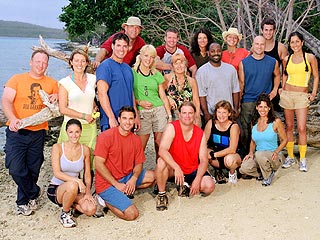 I am not sure who I like yet. I think Rocky will be a contender. But I am just not sure just yet. I usually have to wait a few more weeks before I can make my decision. It has only been two weeks. Did you hear that the idol is going to be able to used up to the final 5? Isn't it normally the final 4?

• United States
22 Feb 07
I think the hidden idol can be played all the way through. For instance, if Sylvia had the idol (which we know she doesn't) she could use it at the next tribal counsel. Looking forward to Thursday! :)

• United States
19 Feb 07
My initial impressions of some of the people have changed after the last episode. After the first episode, I liked Yao man.. and I didn't like Dreamz, Erika, and Rocky. I don't like Yao man now. I found it creepy that he would feel up Sylvia to see if she had that idol. I didn't like the way he opened her bag up either (it was a bit over the line.. plus I could see Sylvia telling him honestly she didn't have it if he had asked her). By his interviews, he just doesn't seem that trustworthy. I think he will float along for while though. He is one of those "under the radar" players that usually end up sticking around for a bit. I have also changed my opinion on Dreamz. I am glad that he has decided to tone down the combative nature he was showing on the first show. I think he pulls his weight around camp and I wouldn't mind him sticking around a while. I don't agree with you about Sylvia though. I don't think bossing people around his pulling her weight. I agree she may have some good ideas but I think she tries too hard to cram them down people's throats. She needs to keep her mouth closed and let others take control once in a while. I don't see her trying to modify her behavior though.. After her tribmate said she was too bossy at tribal.. she goes and tells Jeff that she was going to suggest to her tribe the next day to elect a leader. She just doesn't get when she should be quiet. Unless someone else really ticks off that tribe, I predict she will be the next to go. I was glad that Erika got booted. I just never warmed up to her. I still get a bad feeling about Rocky though. I don't think he is very trustworthy. He was friendly with Erika and then he turned on her pretty quickly. I think he will end up making too many alliances and that will be his downfall. At this point, I don't have any hardcore favorites. Give me a couple more shows and I will have some picks for final three. I too am a huge fan of the show and am excited that we have a forum to discuss the show. I look forward to your future discussions/posts about Survivor (even if we don't agree about the people we are rooting for :) )

• United States
19 Feb 07
Hey Kate - fabulous response. You're right! I totally forgot about YauMan's blatant groping for the idol. But because he was so honest about it in his interview, I still feel he has an endearing side. we'll see. I like Rocky because of his ability to be honest in his interviews too. The first episode showed me that - when he and Dreamz bucked heads and tempers flaired. Rocky said he's aware of his temper and wishes not to let it get in the way. It's tough to control reactive emotions under pressure. And this is probably the most pressure many have seen in their lives. Dreamz is pulling for the sympathy-card with his backstory. I do have a softer spot for him now. But he *really* rubbed me the wrong way in episode one. Sylvia - poor lovely Sylvia. I totally forgot about her "appointing a leader" comment. Thanks for the reminder. Yeah, I hope she can learn to play with the kids. They're a whole different generation. Bugs me to see the young'ns rolling their eyes at those who are obviously a threat to them - whether it's because of their age, wisdom, mind or strength. This is exciting. Looking forward to Thursday!

• Canada
19 Feb 07
I am enjoying this one a lot adn so far i am still on the fence as who is goin to win i have no real favorite yet but probally by next episode i will have at least on ewho ithink gonna make it to final four

• United States
19 Feb 07
Understandable. I don't usually have early faves like this. I'll try to check back at the end of this week.