Meet Stumpy, the four-legged ... duck?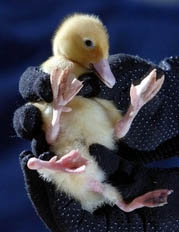 United States
February 19, 2007 1:58pm CST
Yes, this tiny duckling was born in merry old England on February 10th with FOUR legs! This rare genetic mutation has happened before, the last time in Queensland, Australia in 2002. Unfortunately Jake only lived a few days. Stumpy is currently living on a duck farm, which is probably the reason he's still alive (if he was in the wild, he'd probably be dead). I can so see something like this in the Ripley's Museum, can't you?
6 responses


• United States
26 Feb 07
Men that actually hit the bowl when peeing? Seriously though, it just goes to show you that God is constantly testing out new models...I wonder how many weird things we don't know have happened?

• United States
20 Feb 07
That's amazing! He's such a cute little guy too! I just love ALL animals. I would like to see how he looks when he's walking. I bet it is a sight to see! I'm glad he's not in the wild, though. I could definitely see this being in the Ripley's Museum!

• United States
20 Feb 07
I'd want to see him after he's lived a long life and I'm glad he has the chance at one now! I'm surprised that the other one never made it there (Jake, from Australia).

•
22 Feb 07
When I saw your headline I did have to check the date just to makes sure it wasn't April Fools Day. Aw bless I haven't heard of this duckling being born here?!? Although after the bird flue breakout it's probably been pushed to the bottom of the news headlines. Aw Bless him!

• United States
21 Feb 07
Shocking! such a cute little duckling, too. I wonder if the cause of his mutation is related to any chemicals used in feed or any steroids given to the animals. Most farms, even some that call themselves "organic," have had animals exposed to certain types of medications and/or chemicals. Despite the fact that the organic farm itself does not use chemicals, alot of times they purchase a breeding stock that was exposed to something.

•
19 Feb 07
Wow how....diffrent! Yes this would be a nice addition to Ripleys museum. It's strange, yet cute. Thanks for posting that.

•
19 Feb 07
I heard this story on the radio this morning and wanted to see a picture of the duck so thanks for including one.