A Rant Against Velveeta "Cheese"

United States
4 responses


• United States
20 Feb 07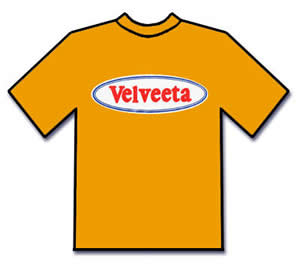 1. Can Velveeta even be considered a cheese? Most of it is the discards of real cheese. 2. The last time I ate it, it seemed really greasy and was a complete mess to clean up. 3. What place would serve Velveeta on a buritto? That's about as bad as when I see the Taco Bell and Pizza Hut locations under the same roof. Either you are in the mood for a taco or a pizza .. never both at the same time (except when you are pregnant, then any food combination is allowable). 4. Reading the box you will see this sentence: "Velveeta does not need to be refrigerated until it is opened." That alone is enough to scare me away from it. LOL

• United States
21 Feb 07
It's not a real cheese. It's a "cheese food spread" which means it is partially made out of cheese and partially made out of other stuff. That's likely why it doesn't need refrigeration. The other stuff under the definition of "cheese food spread" can include binding agents and preservatives and sweeteners.

• United States
19 Feb 07
I like Velveeta ONLY when I put it in the crockpot with salsa and make caso dip. LOL Velveeta is expensive, too. I can't imagine it in a burrito. Did you buy this burrito? YUCK

• United States
19 Feb 07
Well, it was at a fast food type place, so I suppose I can't expect too much. But still- a couple of shreds of plain old cheddar can't be so much more expensive, can it?

• United States
20 Feb 07
I could probably count the number of times I've had Velveeta on one hand. While I guess it does have it's place on various things, I am horrified to find out that someone put that in your burrito. Ick! If I'm getting a burrito from a fast food place, I would want real cheese. I would have been really bummed as well. I do have to stick up for Cheez Wiz though. My friend from Philly has informed me that "real" Philly Cheesesteaks need to use that stuff. I guess I have to agree with him on that one because when I went to visit him those cheese steaks might have been one of my favorite things about the trip. It's one of those things that just seems so gross, but tastes so good.

• United States
21 Feb 07
I don't know if I've ever knowingly eaten Cheeze Whiz. Is it the same as a spray cheese? Spray cheese is sort of fun because it's such a novel thing. But the taste isn't that great. It's sort of foamy...