Should korea have gone through with the nuclear test?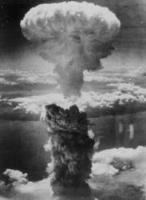 India
4 responses

• Philippines
24 Oct 06
north korea has already tested its nuclear bomb very recently thats why it was given some sort of sunction by the world community. i think it did more bad on both the world and north korea and most likely iran might also defy un push thru with making weapons grade enrichment of its nuclear products. greetings. : )

• India
19 Jan 07
hello guys.. i do beleive what south korea has done is a right thing.. coz.. we should have countries to compet with the super power America.... They are afraid of south korea.. do you know why.. Coz they has threatened america that if they come and meddle with south korea.. they will put a bomb on Japan.... So tht makes US to be more careful....

• Janesville, Wisconsin
19 Jan 07
No, No one should be allowed to set off a nuke for any reason. Everyone time a nuke is set off anywhere in the world it increases radiation level world wide!.. Increases chances of cancer world wide! It disrupts the world's electromagnetic field, which is now at the lowest it has every been recorded in the history of the Scientists have on record.... It will harm the world create more tensions, more wars, and others will start testing too, and it will keep make the world sicker and sicker... It is NEVER good for anyone, A nuke no matter where it is set off, there is no excuse for it. Never should be allowed. - DNatureofDTrain