Solar cycles and climate change

United States
February 20, 2007 1:33pm CST
Gerard C. Bond, a researcher at the Lamont-Doherty Earth Observatory of Columbia University in Palisades, N.Y., in 2001, published a study in the journal Science concerning a major solar cycle and how it relates to the earth's climate. Consider these three quotes from an article about the paper published by Bond. "The cycle of sunlight intensity roughly follows a 1,500-year pattern, based on analysis of the past 12,000 years." "Bond and his colleagues believe this is enough to trigger severe climate changes, such as the Little Ice Age, a 490-year period starting in 1400 that dramatically chilled Europe and the North Atlantic." "Based on the 1,500-year cycle, Bond said that the Earth's next little ice age could occur about the year 3100, plus or minus 500 years." Global warming? There is pretty good evidence in this study that global cooling is going to happen in about 1000 years. Humankind will not be able to change this one way or the other. So, if there is global warming just barely getting started now, by the time it could be a problem in 1000 years or so, there will be a mini ice age starting and they will cancel each other out.:-) Here is the url for more info: http://www.space.com/scienceastronomy/solarsystem/solar_cycle_011116.html Also, contained in the article is this quote by Bond: "The climate system is extremely sensitive to weak forces, such as solar variability," Bond said. "That should make us that much more worried about greenhouse warming." Why do you feel he felt compelled to add this to a study about solar cycles? So, my question is, "Is global warming having a 'chilling' effect on scientific research?".
4 responses

• United States
22 Feb 07
I was just exploring the website for space.com and found so many fascinating things there! I was never much into the earth science in school; my concentration was pretty much biology and chemistry. This is like a whole new world for me to learn about.

• United States
23 Feb 07
www.space.com is an incredible web site. They pretty much cover anything to do with space from home astronomy to manned space exploration. I highly recommend it. Thanks, for bringing it up so we can tell people about it.

• United States
22 Feb 07
My only concern is that 1,000 years won't be fast enough. "Official reports" on global warming expect it to reach serious conditions in just 50 years. However, the rate the glaciers are breaking up in Greenland is much faster than the "official" reports projected. So we may be looking at serious consequences even sooner. So going into a "mini ice age" 1,000 years from now will not help us or our children and grandchildren.

• United States
22 Feb 07
Could you give me a reference to any of these "Official reports"? I ask only because one of the scientist's comments I found (who was in support of Al Gore) was about how there was not going to be a serious problem as fast as was hinted at or strongly implied in the movie. This scientist was actually in support of Al Gore, he just insisted it was not good science to imply global warming was going to be critical in a few years. So, anyway, I certainly would read any reports to which you refer. I have been reading a lot about this topic. I'd be happy to read more. Thanks.

• United States
23 Feb 07
I don't have my 500 yet; so I can't copy and paste links yet but here is one that I will hand type for you. http://www.ecobridge.org/content/g_evd.htm This site lists several studies and has links to them and to other sites about this subject.

• United States
23 Feb 07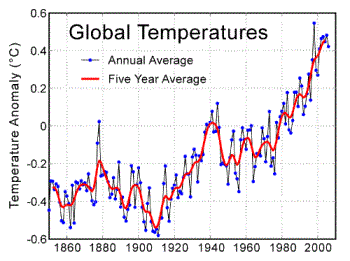 Thanks for the great link. I have uploaded the global temperature chart from that site to encourage others to visit the site you mentioned. I happen to differ with a lot of what they say, but they are using logic, numbers, studies, and quotes from scientists to make their points. I believe they are interpreting some things wrong, but they make good points in an intelligent manner. This site provides constructive differing viewpoint dialogue. That is always welcome. Looking at the chart, did you notice that there is a drop in global temperature after the nuclear explosions that ended WWII? I hope no one suggests we NUKE the enemies of the USA and try to solve 2 problems at once. Just kidding! I bring this up only as an example of how charts and numbers can be misused. Nothing is as simple or obvious as it seems when it comes to global warming.


• Australia
23 Feb 07
As I, and no-one else has a crystal ball to see into the future, logical formula based on past data and present occurances, give a possible outcome. The presentation of this formula is a choice (guess), if an educated choice is made one way and another educated choice is made to the contrary... we have a debate!! But not tonight josaphine!! lol Keep well mate!

• United States
23 Feb 07
Yes, I see what you are saying. In the final analysis no one on earth can really project whether global warming is going to continue or not. The data simply are not complete enough to make more than a guess.

• Australia
24 Feb 07
One things for sure red, the rate our ratings are going down, there won't be any "ratings" warming here!! rofl. I didn't mean you and I would have a debate either red, it was meant as a "global" comment...lol

• Australia
24 Feb 07
Hi red, I am a bit concerned about the temps going up, I feel we do have a hand in it, even though there have been many variations in the past for many reasons. OT, what is going on with the ratings stars, how is it a lot of posters that appear not be to be as contributive, have nice 9's and 10's scores, and here we are, plummeting. Um, who actually owns MyLot, it's not the scientologists is it? Are we being e-metered remotely?