Pamela Anderson!!!! Do U believe this,,,,just chek her without makeup:))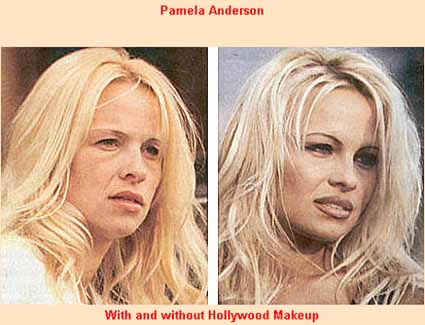 United States
February 20, 2007 2:04pm CST
I have just came acrossed this picture of hers which is so shockin can make-up create such wonders? or this is fake or just a trick pls let me knw,thanks.
3 responses

• United States
20 Feb 07
its fake, that's not her on the left, too many differences in the hair, nose, cheeks, even eyes. The one without make looks more like darryl hannah.

• United States
20 Feb 07
No I have this Magazina at home It is Pamala anderson she looks nothing like the makeup one, I have seen many just like this one! Thats her!

•
20 Feb 07
haha! yeh iv seen quite a few celeb pics like this with the before and after pics! its amazing wot airbrushing and makeup can do. if i can find them again il post the link 4u.

• United States
20 Feb 07
Thats why I have never thought that celebrities are so amazing. They just have better makeup and people to put it on for them and make them look perfect! I think its funny thank for the pictures those are my favorite magazines the ones that show celebs for what they really are! People! just like you and me! Not Magical, not Holier than thou, Just people!