Snow in my city after 63 years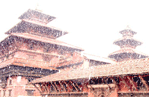 Nepal
February 20, 2007 3:02pm CST
It was 14th february better known as valentines day or a day for lovers. This day I did not have any valentine so I was spending my day with my friends. It was a really cold morning of that day and it was raining. Then something magical happened. It started snowing. After 63 years it had snowed in my city. Kids were playing around in the snow no matter how cold it was. Lovers had a really romantic time because it was valentines day and it was snowing on a place it never snows. The last time it snowed was in the year 1944. I am really sad to say that I did not get a chance to experience the snow. I have never seen snow in my entire life till now and even on that day I was indoors and I never knew that it was snowing. Bad luck for me. So tell me have you ever seen/touched snow in your life? Do you like it when it snows?
2 responses

• United States
20 Feb 07
I love the snow, to watch at night I find magical especially if you are warm and cosy indoors. During the day it is fun to play in it but not so much fun when driving. I also had to be careful with my dogs as it could form little hard lumps of ice between their toes and so so painful we would have to take turns carrying them home to thaw out.

• Nepal
20 Feb 07
Glad to hear that you enjoy snow. I want to touch and play with the snow so much but I have never got the chance to do so. I see snow on tv, I see pictures of people playing with snow, I see pictures of hills covered with snow and I even see snow on the hills surrounding my city sometimes. But I have never got a chance to touch and play with it. I hope that I will get a chance next winter.

• United States
21 Feb 07
Ha! You should have been in Ohio this last week! The snow had drifted up to the bottom of the side door handle so the door was rendered useless! I have a stray cat that stays in a dog house on my gazebo and I had to shovel a path for him (and me) as the snow was higher than he was! Even though we gripe about it, it truly is one of the most beautiful scenes, especially when the snow sits on branches of the trees and covers the ground making everything looking like a winter wonderland.