Have you seen a movie because it was nominated for an Oscar?

United States
9 responses

• Philippines
21 Feb 07
Let's see. I watched Scent of a Woman, Boys Don't Cry, Crouching Tiger Hidden Dragon, because they were nominated and I loved them. I've also watched some movies before they got nominated because they really seemed interesting. Most did not disappoint :)

• United States
22 Feb 07
I saw Crouching Tiger Hidden Dragon because it was nominated and it was in Chinese, not badly dubbed English.It was great.

• Philippines
21 Feb 07
yes, it must be a good movie to be nominated in Oscar even it did not win.


• United States
21 Feb 07
No, I've never watched a movie because it was nominated, or even because it won. There are plenty of Oscar winners that I will never watch because they don't interest me. I go by director and subject mostly. When I've watched a movie that did get an Oscar, sometimes I think it's pretty bad. Dr. Zhivago won several Oscars. I watched it a few years ago when it was on TV and it was one of the worst movies I've seen. Just because the judges and the general public love a movie that doesn't say a thing about its quality.

• United States
22 Feb 07
It is all a matter of taste. The Academy and I love epics, but you don't, you won't agree with their choice.

• Philippines
21 Feb 07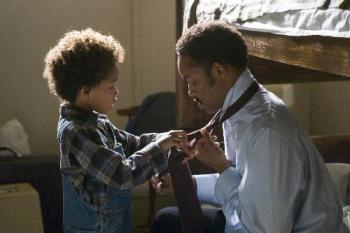 YUp,this year OScar,i have seen two films, The Pursuit of Happyness, is very tounching and an inspiring story and The Queen,in which i saw Elizabeth II as human being and not only a monarch.I highly recommned this two films.

• United States
22 Feb 07
I have got to see The Queen.I love Helen Mirren's work.

• Belgium
21 Feb 07
Yes, offcourse it gives somehow that it is a quality movie or a movie especially made for winning oscars like the aviator. But mostly I already knew the movies from some reviews so I would see them in the end, but yes it gives the movie maybe that something more that is needed to be a classic sometimes.

• United States
22 Feb 07
I like it when a little independant film, like Little Miss Sunshine, gets nominated and more people get to see it

• Australia
21 Feb 07
This past weekend I did exactly that. I had a couple of free movie tickets given to me by my work that expire in March, and by the time I took out the 'no free list movies' and the things I had already seen, it didn't exactly leave much that even remotely interested me. Needless to say I found myself watching Dream Girls. OVerall I found it to be ok, but nothing I'd rave about or really even recommend like it had been to me a couple a hundred times. I found overall, the character development needed a bit more work. At some times it also seemed to drag a fair bit so probably could have done with a bit more editing.


• United States
21 Feb 07
I have not gone to a movie just because it was nominated or won, but there have been times that the clips from the Oscars got me interested in a movie I had not been interested in before. I'm still interested in seeing Crash from last year's Oscars but I haven't gotten around to it.

• United States
22 Feb 07
That happens to me every year. You see a clip and then you want to see the film.I've seen Crash. It is one powerful film.