How far back can u remember?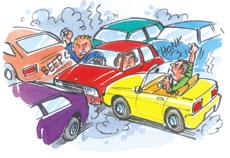 Australia
February 21, 2007 2:23am CST
m earliest memory is when i was 3 and my mum ran into the house crying and my dad was yelling at her bcos she had crashed our car. i remember he was yelling then he suddenly wrapped his arms around her...its a great but sad early memory... how far back can you remember? Wats ur earliest memory?
6 responses

• United States
21 Feb 07
I think I was about 3 and I remember a softball hitting my back...although it wasn't very "soft". My dad and his buddy were playing catch and I just happened to be in the wrong place. I quit breathing and I think passed out. I remember opening my eyes and my dad was holding me and running into the house. Then all of the sudden I caught my breath and started crying. What is it about remembering tragic events?

• Australia
21 Feb 07
i think they stay in our minds because pain always does...its so bad

• United States
21 Feb 07
No one ever believes me but i have a vague memory of my 1st halloween. I was lying on my changing table looking up at my mom and she said "we're gonna make you so pretty!" I was under a year old. My next is probably around 12 months and I was lying in a crib at the childcare room of my mom's moms group she went to. I remember lying there and being content and thinking how my mom was going to come get me soon, my cousin was nearby (shes my age she was in the next crib over) and i had my blankie by my side. The next is around age 18 months and it's waking up in a crib at my grandma's when she used to babysit me. I remember standing up and playing with these ball things on the posts of the crib waiting for her to come get me out. I also remember the day after christmas when i was 2.5 years old... our dog had had a seizure during the night and my parents were trying to keep me out of the living room. My mom was pregnant with my sister cuz i remember her big belly under her robe. She asked what i wanted for breakfast and I said "tuna fish"

• Philippines
21 Feb 07
I was probably around 5 then when I cut myself really deep on my knee,I wasn't aware of it I didn't even feel pain but then when my mum screamed saying that I was bleeding badly I look at my wound and I just realize how painful is it. I had to have atleast 10 stiches,now it a scare but the memories of it is still fresh.


• Philippines
21 Feb 07
i think i also 3 yrs old then, i remembered our helper is carrying me, i just woke up from my afternoon nap. then we went near our house' gate so i could see other children playing in the streets outside. tho i wana play to, she just kept on carrying me with her arms, i think bec my mother instructed her to keep me inside the house.

• Australia
21 Feb 07
that's sad...im sure your mum had a good reason...

• Australia
21 Feb 07
the earliest thing i can clearly remember was a short moment when i was 3... it was when i was moving into the flats at lethbridge park lol and i remember pushing open the door and it was really big and heavy and i was wearing my favourite pink hat =)