ur signature reflects ur personality............!!!!!!!!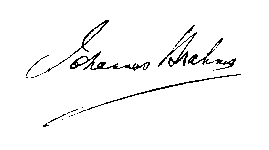 India
February 21, 2007 2:38am CST
Signature Paints a Thousand Words It is said that a picture paints a thousand word..So as signature.. The way you sign a legal document or your paycheck also helps us point what kind of person you are.. Believe it or not, you may check the analysis down here.. Which one is yours?Single underline below the sign! These persons are very confident and are good personalities. They are alittle bit selfish but believe in "Happiness of human life"Two dots below the sign! These persons are considered to be Romantic,can easily change their fiancees as if they change their clothes. They prefer beauty in other persons and they themselves try to look beautiful. They easily attract others. Single dot below the sign! These persons are more inclined towards classical arts, simple and are very cool.If you loose faith with them, then these persons will never look back at you. Hence its always better to be careful with these people. No underlines or dots below the sign! These persons enjoy their life in their own way,never pay attention to others views.These are considered to be good natured but are selfish too. Random sign, no similarity between name and sign! These persons try to be very smart, hide each and every matter, never say anything in straight forward manner, never pay attention to the otherperson of what he is talking of. Random sign, similarity between name and sign! These persons are considered to be intelligent but never think. These people change their ideas and views as fast as the wind changes its direction of flow. They never think whether that particular thing is right or wrong. You can win them just by flattering them. Sign in printed letters! These persons are very kind to us,have a good heart, selfless, are ready to sacrifice their life for the sake of their near and dear. But these seem to think a lot and may get angry very soon. Writing complete name as their sign! These persons are very kind hearted,can adjust themselves to any environment and to the person they are talking.These persons are very firm on their views and posses a lot of will power.
8 responses

• India
1 Jul 07
Wow Anshul thanks for this wonderful discussion....by the way how do YOU sign?! well me i write my full name always and maybe i am like what they describe! thanks anyway for posting it here :)

• India
9 Jul 07
well mine is single underline below the sign & writing full name

• Italy
26 Mar 07
Yes, it is true that signature paints a thousand words about the bearer of the signature. Signature speaks about the person itself since it is his calligraphy but in a diffirent manner. Thus, it shows about his unconscious self and his character. Signature leaves an imprint of the inner self and picture of the person behind he scene of his life.

• India
9 Jul 07
i completely agree with rudy....... now with this information i think it will be easier for u assess any person......

• Italy
25 Feb 07
i do agree with you....the way we write reflects our personality...think about mine for example..I start turning my words towards left and then at the centre of the page I start doing the opposite..I think this reflects a part of my character, that is the fact that I like studying past ages..I like learning the lessons they can give us...there is so much I think we owe to past ages and some things I miss..but then I turn to the right..this is because I want to know past ages and my own past too in order to look at the future and do something new but as a continuum with the past!

• India
26 Feb 07
u seems to be knowing bout ur signature to a deep extent.....anyways thnx for ur response.....

• Saint Vincent And The Grenadines
21 Feb 07
well i don't know anything about this world, but yeah experts say that your signature can say a lot about the person who signs....it is kind of scary isn't it?lol At the same time it's fascinating that we can show so much of ourselves in a simple sign....anyway are you sure that those experts are right when they say all that data is true? don't know, i am a bit skeptical.

• India
26 Feb 07
i'm not so much sure bout the relevancy of this material but i came acraoss this material in a newspaper n they must hve published it after a long search n thinking so the chances of this data being true r more.......


• Philippines
7 May 07
A power signature! Whether you go entrepreneurial or corporate, your signature will appear on every business deal you make so you want it to be a money magnet. According to the success-driven principles of feng shui, a prosperous signature always ends in an upward stroke. It ends your scribble on a good, positive, wealth-attracting vibe. Try it!

• India
26 Mar 07
Wow! i heard that people can make out what kind of person he is from his signature, but never knew those so from today i can be the judge. Anyway those informations that you have discussed in the above are very true as i compared with my signature and it was very true. Thanks for sharing those knowledge that you know and keep on posting such topic in the near future. It educates dull people like me lolz. Anyway good luck to you.