Do you prefer puppy dogs or adult dogs?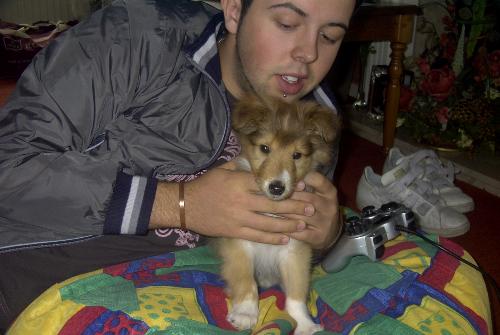 February 21, 2007 4:51am CST
You can see the picture of my dog (and my nephew, Turu) when she was only 10 weeks old. If you check my pics out in my profile you will get a look at roughly what she looks like today. Her name is Phoebe, and she is a rough collie. And when she was a puppy I could not wait for her to grow up into the elegant rough collie that she is today. I did think she was very cute as a puppy, and she was very lively and still is. Some things about her will never change I guess! haha. But I am not asking about which is cuter, but which you prefer and get more pleasure out of seeing and interacting. I do prefer her now she is a full grown dog (and I always said that I could not wait for her to grow up!!) because she is house trained (although she was housetrained within 1 week.. she is sooo smart! haha) and she is a bit smarter now and wiser to the household. Before she used to just love to bite things haha. Now if she enjoyed that still it would be a lot more painful physically and on my bank account! haha. But which stage in our doggies lives do you prefer? Puppy or adult? Or maybe you wanna get more specific!
6 responses

•
21 Feb 07
We have 2 siberian huskies. Tara was only 8 weeks old when we brought her home. Kai is 8 years old. Although puppies are cute, they are really hard work. Sibes are very stubborn and hard to train. There is always something else they would rather be doing. Tara will be 2 years old this coming Saturday and still is very much the puppy. She is a nightmare to walk as she is always jumping into bushes looking for some little snack, fast food of the furry kind. Kai is a laid back gentleman, a pleasure to walk. We have some good howling sessions together. I love Tara to bits, but I am looking forward to the day when she doesn't pull so much. It is hard taking pictures when she is bouncing all over the place with her husky hop. They each have their own character and I love them to bits. But, we will not be getting another puppy.

•
21 Feb 07
I love siberian huskies. A guy that lives near us has 5 huskies and walks them all himself! He ties them to his waist and hopes they don't all pull in the same direction I guess! haha. I love the husky dog when they are pups too, the are sooo cute. I certainly wouldn't mind having a siberian husky when I get a bigger place. Great names for them too! Tara and Kai are proper cool names for cool dogs! Thanks for the response.

• United States
21 Feb 07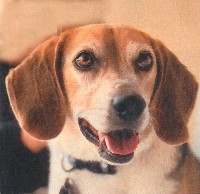 Its good to hear that you are enjoying your dog so much. Dogs are great company. Me, personally, I would prefer to get a puppy and train/teach him/her myself. It is great to see how they are and you feel good about yourself when you raised a good dog.

•
21 Feb 07
For sure I agree that it's better to have a dog from a puppy so that you can teach them well... But when they are puppies, I really look forward most to them growing up to full adults so that I can take them walks, and teach them tricks and just generally interact a little more with them without the fear of hurting them, or them getting hurt haha. Thanks for the response though... btw, how do you get pics into your replies?? I can't do that haha.

• United States
21 Feb 07
wow!. i like the name of the dog!. anyways if you ask me i would prefer to have a cute puppy!. i really would like to interact and take care of cute little puppies because they are more playful and they are much much cuter.. see big dogs or grown up dogs are ok but i like puppies much better. i like it when they really play around and look really cute.. more like little angel doggies for me!. anyways i am quite afraid of grown up or adult dogs because i had once been chased by a mature dog when i was young so i developed some kind of mild phobia about fierce and mature dogs. but i just cant resist the puppies..

•
21 Feb 07
Sorry hear that you were chased by a dog when you were younger! That's a pretty horrible thing to happen, and can easily put you off dogs for life. But I'm glad it didn't, and yes I adore puppies too, just interested to see if you prefer them to adults or not! haha. Thanks for the compliment on Phoebe's name too! She'll be pleased to hear that you like her name haha. Thanks for the response!

• Philippines
23 Mar 07
I dont have dogs in my house. But i prefer to have puppy than adult dogs. Because it's more cute and i like them to be hug. Adult dogs are not that cute..lol Their are dogs that are not growing up, their still on their height though they already old, but still they are cute..

• United States
21 Feb 07
Each dog age has many pluses.As puppies they are so playful and I did have some as small puppies. My dogs at this time Spirit and Vega were sort of puppies when acquired. Spirit was about a year old.He is a mixed breed and then there was Vega. She is a German Shepherd and was nine months old when we acquired her.I think that because I work I got more pleasure because the dogs were older and both trained before I got them.So we have had them for a long time over 10 years and I have to say they are the best as watchdog (Spirit) and helpers and nurses.If you cook or sweep or anything thay are right there to lay in the way or in the pile but you got to love them because when I am sick they are right there to help get me better.