trapped in office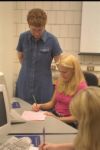 Israel
February 21, 2007 5:11am CST
Friends, I work in the office from 8 am to 5 pm. All these long hours I am sitting and sitting and sitting on my chair doing all mental work, but no physical work. I hate to sit like this as I know I will put on weight as I am not getting any exercise. But this is my job, I have no choice. Can you suggest me some tips, how can I get some exercise sitting on my chair. I am sure many people working in office must be facing such problems. Please help us.
6 responses


• Australia
23 Feb 07
You can do pelvic floor exercises while sitting, retracting internal muscles in the abdominal area. I was fairly active in the office, up and down off my chair often which is exercise in itself, but doesn't help the cardio fitness. Walking weekends is great. Try walking for 15 minutes during your lunch break, whatever you can manage. Enough to stretch your legs etc. I got into a habit of walking after dinner as well. That of course depends on your circumstances, neighbourhood, home responsibilities.

• Australia
23 Feb 07
Retracting abdominal muscles: get hold of a pilates book, that may help you. Have a go at retracting/squeezing in muscles and you will feel what happens. Losing weight with brain power - not easy to explain. Has to do with flow of energy. Example, if you are at your desk and hating your job, its like you sit there like a blob, bored, humdrum, can create weight gain. People who like their desk job, like the intensity of pushing that pen, answering phones, calculating, typing, designing on computer, it burns energy. Some people after a hard to at the office can feel the same as a construction worker. You have to add enthusiasm, motivation, adrenalin etc., into the mix of your job. What makes you flow!


• United States
23 Feb 07
I'm in the same situation you are in... What I do, is try to get up often and just walk around the office. I used to bring bottled water with me every day, then realized that I could just refill an empty water bottle from the water dispenser that is in another office. So now, I get up and refill my water bottle a couple times a day. Not only cheaper for me (don't have to bring my own water), but at least I'm getting a little exercise. I also plan to take a walk at lunch every day as soon as the weather permits. I get a half hour, so I'll bring something healthy to eat quickly, and try to get in at least 15 minutes of walking. Every little bit helps!

• United States
23 Feb 07
Physicaly exrecise is difficult for me to suggest you but mentally I can make you happier . By seeking the story of poor people ,polio , seeking news of third world or africa..etc . After knowing the sorrowful story around the world ,you feel you are very lucky . If we eat sweets every day we'll feel sweets no longer tase good , only when we taste sault , spicy ... we will understand what sweets is really sweet . Wish you healthy and healthy

• India
21 Feb 07
Yes problems like slip disc and spondylitis are increasing due to this kind of jobs, some stretch exercises are available to relax the muscles in yoga while sitting on chair. For removing your feets numbness you can rotate your foot in clockwise and anticlockwise direction. Take a walk in between from your seat to your colleagues seat in between can also be good.

• Pakistan
21 Feb 07
Yes sure my problem is same and I am having a pot belly. According to experts when you are working like this after every hour or two just pull your chair a little aside stretch your back and then try to touch your tows. Do it 10 or 15 times. For your eyes move them side by side and up and down without moving your head it will be relaxing your eyes. Then simply for your neck move it as you are saying no no no :)