Will anime takeover HollyWood?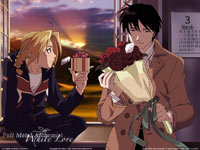 India
February 21, 2007 11:31am CST
I think it's possible. Not only are animes more colurful and really terrific, they don't need actors, scenes, ligtings and all that. All it needs is a story, plot and a artist. Of course the cast is important too. Somehow, i feel that the animes are getting more and more realistic as time goes by. It'll be difficult to diffrentiate between a anime and the 3-D graphics. Moreover, i've noticed how realistic a mangaka's work becomes when they put in a lot of effort. Especially the front pages. The characters are more realistic than the 3D animations. Plus, the artist acn aquire the required expression on a anime char's face more easily than a actor can practice it on the real face. Pluse, the anime shows expressions vivdly and more accurately. There's no question of a anime character 'acting' anymore.
7 responses

• India
22 Feb 07
You've got a good point. But i don't think animes can takeover HW movies. Even though there are people who like anime, more people like HW movies as they depict real life more. Even 3D animation cannot over write HW movies. Besides, i don't think any artist can bring out nature as beautifully as a camera can. Other effects like lightning and seas and ships, cannot be perfectly imitated by an artist. Even though you say, "the artist can aquire the required expression on a anime character's face more easily than a actor can practice it on the real face", i believe human emotions are better expressed by real people. Moreover, aters and actresses exist because they can provide competition against anime. In movie theaters, animes are rare, but the HW and local movies are often rolled. Thinking about it, i feel that only experienced humans can bring out the matial arts skills much more better than a anime character pulling them off. But don't you think that anime and real HW movies have begun to merge? Special effects are often added to action movies. This may be the beginning of introduction of anime into real life HW movies. I think a productions like that of Disney will soon come up into the HW. But i'm still not sure how many people in the world even know about anime and its difference from cartoons even. Anime seems to have to take a long road to reach Hollywood...

• United States
21 Feb 07
it takes a lot to make an anime what it is, the same amount of people it would take for a regular american animation. i'm not too sure if hollywood is really ready for some animes. i mean, i would love to see an american done live action Initial D, and my husband always said Akira would make a great hollywood movie, but the budget would probably be through the roof.

• India
22 Feb 07
ofcourse i think and now the actors and the actress are striving to make their places stable by making the movie better and better and the animations are too good using the realistic views by maya or the other animation softwares and now a days it is proved to be more efficient as they are striving to get the good results from that.

• South Africa
28 May 07
I think movies using animation like Final Fantasy should take over. For me it was a brilliant film and I really do hope they make more of those. It used almost real characters in the plot. Take films like 300, for example. It has based its entire framework on animation. Maybe this is a bit off topic, but it will grow more and more. By the way, both of the above mentioned films are excellent. You should get time to watch them.


• Philippines
27 May 07
I dont think anime will takeover Hollywood... Maybe they will adopt something from anime but its hard to think that anime can takeover Hollywood. Remember that in Hollywood, most Americans live there and some other nations are influenced by their nature or lifestyle whenever they come to that place or near that place. Asian would rather act like them. I have read an article about an anime series, Blood: The Last Vampire will be filmed on 2008. It was said that it will be sponsored by Hollywood, a Korean girl was chosen to potray the role of Saya. This is what I mean, they will have interest on anime but they will just take something from it. In my opinion, they would rather watch Shrek than anime, only few people in Hollywood or US likes anime. Remember, this is just my opinion, please dont be offended.

• Philippines
18 Apr 07
Nah, but I do agree that producing anime is kinda cheaper. We are in the techie age. People nowadays are looking for more efficient and productive ways. If they want it that bad, anime will be able give these to them better than filming and using actors and stuff. Though I must admit that Hollywood is beginning to use more animation techniques to reduce their cost and to produce results the same as that of anime's... I dunno... No one can really tell...