Someone is going to consider one of my babies!

United States
February 21, 2007 8:06pm CST
I've taken in 7 cats since Thanksgiving and 6 are up for adoption - tho only 3 are ready (shots/fixed.) One of them, Natasha, is going to get picked up for a "visit" with the potenial adopter tomorrow night. I hope she gets adopted, but I'll also miss that little firecracker! She's so helpful, has to be in the middle of whatever you are doing. She's always helping the roomie send im's - tho she can't spell! You can't go to the bathroom in peace because she's got to jump on the shoulder and rub your face! She has a totally sweet face, pretty coloring. She's on Petfinder.com, Austin Texas, under Cat Angels. She has a brother named Boris & her mom is Rocky.
6 responses

• United States
22 Feb 07
I can relate to your love of animals and cats. I do hope that she gets a Good family to adopt her and love her a lot. Do you check the people out? I adopted two cats, and love them so much. Good luck dear, blessings, M&M

• United States
26 Mar 07
I hope it all works out. Thank you for best response sugar.

• Canada
22 Feb 07
Don't you find it so hard to let go of your babies like that, I know I get so attached to my kittens. Natasha sounds like a real beauty. I hope she gets adopted as well.

• United States
22 Feb 07
I'm sure the cats are thankful that there's such a good soul out there that takes them in and helps find them homes. And I'm glad to meet you as well. Over the last four years, I've repeatedly taken in kittens and cats that were in need of homes. Like you, I made sure to place them with new owners that would be the best match for them even though it's hard to do. One thing that might help in the future is to see if there are any cat and/or dog neutering groups in your area that might help with the potential overpopulation issue. That was the biggest problem that I faced. I was lucky that here in PA there's a local group that helps people like me and you. Good luck with your cats. I'm sure you'll find good homes for them.

• United States
22 Feb 07
I agree, and there are. These cats have all come to me because the owners, for whatever reason, couldn't keep them anymore. I learned yesterday that the lady who gave us this little family because her husband told her it was him or the cats back at Thanksgiving, has filed for divorce. See, I'd've told him - "well, nice knowing ya..."

• Canada
22 Feb 07
I commend you for taken in cats. I am a cat lover and I do not even like going to shelters because I cannot stand to see all the cats in those small cages and knowing that the majority of them are going to be put down.Keep up the good work you are a good humanitarian. My hats off to you!!!!1

• United States
22 Feb 07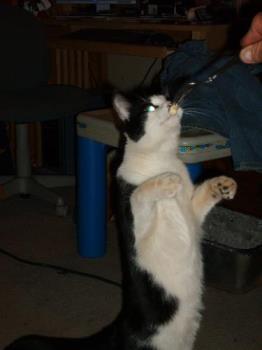 I totally feel your pain I also have or I should say Had 8 cats which included 3 kittens. I just recently got good homes found for the kittens, and possible the two feril cats I took in may be going to a Barn for Mouse control! at least I am hoping! I am over run and my being a good sameritan has turned into a nightmare! Good Luck to you though!

• Philippines
22 Feb 07
You are quite a pet lover. The world needs so many of your kind. We love pets, too. Even those animals which are roaming around with seemingly no one permanently taking care of them, we feed them whenever they come to the house. In my country, the temperatures are very friendly to naturally grown animals and people are mostly friendly to them, too.