How about the changed looks of the indian cricket team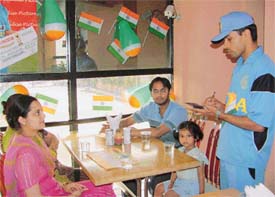 India
February 22, 2007 1:15am CST
hi...This is to cheer the new look of the indian cricket team. But...hmmm...do our champs really look cool in this sky blue dress...wellll...i think the previous one was better....but the INDIA written in yellow is not as cool as it seem to be earlier...I hope that with the new dress & new "josh". our champs will rock the world... well i forgot...now u tell me what do u think of the new ly dressed team....wow OR woooo
4 responses

• India
22 Feb 07
Well i didnt like the changes in the dress of the Indian cricket Team. They people have hardly made any changes in it. This will not affect on team confidence or the moral support.

• India
22 Feb 07
Hi toshin, wanna tell u one thing man. may be not with everyone but a lot of people like changes that adds to a positive energy in them. i m also such a sort of person. so it doesn't matter that it is looking good or not, but our team has to perform well in the world cup & that's all. my definition of fashion is: "whenever an intelligent person wears something foolish, that becomes a fashion". so come on...lets cheer for india....HUM MEY HAI DUM.....JEETENGE HUM

• India
22 Feb 07
woooooooooooooooooooooooooo i didnt lik d dress coz its nt as gud as it shud be......

• India
22 Feb 07
hello bhatia ji, yaar dress toh mujhe bhi pasand nahi aayi par kya karein....hum indians ko to cup se matlab hona chaiye naa...ha ha ha...well, agar nike manufactured iss dress ko dekha jaye toh its gonna be more comfortable for the players in the carrebian climate. jeetega bhai jeetega...india world cup jeetega....

• India
22 Feb 07
Ha ha ha! I felt like laughing. India always wore blue, much better blue. This time it is 15 per cent faded. To combat West Indian heat? they say so. I thought, by this only the apparel sponsor got the mileage. But the Tricolour on the jersy is a respite. It is more prominent this time. Good luck India!

• India
22 Feb 07
Hi, a very good points grabbed by u. the apperel sponsers got hte mileage..ha ha ha ha...but i think that it is not the dress infact...fitness and performance that matters for the indian team in WI. lets cheer for the victory of our team together. Chalo india....dikhado....v r world champs...:):)


• India
22 Feb 07
well i hope that there is something wrong...i m talking of the recently released indian cricket dress that the team is gonna wear this world cup...check it out once again...then tell weather u liked it or not...