What would you carry along,a Bible,Radio,Piano aor Photo album?

Uganda
February 22, 2007 6:25am CST
If you must leave for an Island forever where there are no other people but has plenty of eats, what would you carry along,a bible,radio,piano or photo album of the people you would miss? Honestly, I would carry a piano b'cz with it i would praise God,console my self, play music to keep happy and busy? How about you?
7 responses


• Indonesia
22 Feb 07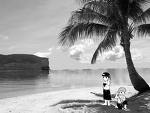 I asked my friend about this, and his answer is make sense. I would go with Bible, because it takes time so much to read it til finish. While radio's battery is only about 10 hours max, Piano is too big to carry and Photo Album will only make us sad.

• United States
22 Feb 07
My photo album that way I could always look at the pics and feel closer to my loved ones.

• United States
22 Feb 07
I would carry a bible becuase you can always pray anywhere about anything so the bible could help you becuase you would always have one friend with you Jesus. And you could read him his favorite book the bible. That's why I choose that I would take a Bible.

• United States
22 Feb 07
Ideally, i wish that I could take another person with me, lol. I know that that wasn't one of your options, though. I just don't feel good without company, so I'm not sure how long I could stand it there without someone to talk to. But I would probably take the radio, of the choices that you gave. My only problem with that is that it would have to have batteries, so there's no way that it would last forever. Then I would basically be left without anything. So maybe I could take the piano for music. I really don't know.

• United States
22 Feb 07
I would opt for taking the bible. With the bible you'd have peace and plenty of reading material, plus the time to reflect on what you've read. Being alone, you would need to feel closer to God. The radio would eventually need batteries, or power, and be useless, after an amount of time. The photo album of the family and friends would be nice, but it would only make you more lonely and miss them even more. I would be able to remember them and picture them in my mind without having pictures of them. A piano wouldn't work because it would get out of tune after a time, and unless you knew how to play it it would probably just sit there.

• United States
23 Feb 07
If I were given a choice of what to take to this island you describe I would take the bible so I would have something to read and draw me closer to God. Then I would take a radio to have something for company and to help keep up with the outside world.