if you were an entertainer, what kind would you be and what would you do?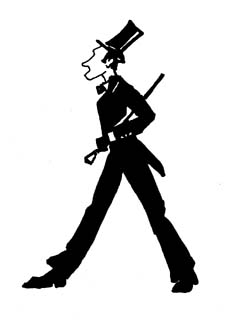 United States
9 responses

• United States
23 Feb 07
Actually, when I was younger, I did act on stage, and was an acrobat dancer. Now I am an artist, and I do enjoy going to weddings, as a job, as well as an entertainer. I scissor cut the guests. They love it and are amazed. Look at this, and you will see what I mean: http://mgcreativearts.com/Finall.wmv It is a rare and lost art, and very entertaining. If you would like to see more of my work, look at my website. I watercolor and do silhouettes. www.mgcreativearts.com I have a shop on line you might enjoy looking at too: http://www.cafepress.com/margieanneart

• United States
1 Mar 07
Thank you very much for best response dear.


• United States
23 Feb 07
I like and enjoy music. So I would definitely go for singing. For me in the entertaining industry music is the only field where I would feel happy and comfortable.

• United States
23 Feb 07
I would not be one for anything. I am just too busy to be an entertainer and I really dont enjoy them. I dont watch much TV at all. So I have no desire to be an entertainer.

• United States
22 Feb 07
I would love to be a comedian as I enjoy trying to make people laugh and have a good time and make feel feel relaxed. Everyone needs to laugh and smile and being a comedian I think would be fun and hopefully get people to laugh like crazy. I would probably make myself laugh too. I think it would be a fun and also healthy career choice as an entertainer.

• United Kingdom
1 Mar 07
I'd love to be a stand up comedian, like Dave Allen (Irish) who sadly passed away a few years back now, he entranced the audience they loved him. Having an audience laugh with you, the feeling of making people laugh, the feeling of making people happy and having the skill and talent to be able to make people laugh is a wonderful talent to have indeed. Not just having your name in lights but people talking about you in a postive role and conjuring your name up when they think of great stand up comedians!

• United States
24 Feb 07
I think it would be fun to be a mime! They can be so entertaining yet don't have to memorize any lines! The costume is easy too! I like acting silly and at first I thought of being a comedian. But having to constantly come up with new material would get tiring I think. So yeah, I think a mime!

• Canada
24 Feb 07
I would have to be a comedian. I love laughter and love to see others laugh as well. I am not afraid to be out in public and make a fool of myself whether it is intentional or not. I always have a one liner on the tip of my tongue. Yup I would aspire to be a comedian.

• Canada
23 Feb 07
I am going to assume that I am going to develop this talent overnight. I would be a singer. I love to sing but no one likes listening to me sing. So with the assumption I could sing, that is the field I would pick. I would want to be famous. Be able to travel the world and give concerts.