Nobody use Netscape anymore?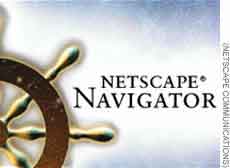 Indonesia
February 22, 2007 9:21pm CST
Does anyone from my fellow mylotian still use Netscape Navigator?
9 responses

• India
23 Nov 07
I do not use netscape. Nowadays better browser is Mozilla firefox 2.0

• Philippines
10 Nov 07
My Firefox recently has been a bit problematic when it is upgrading to a newer version so i tried Netscape Navigator 9. So far, it's really similar to Firefox.

• Indonesia
25 Nov 07
My first choice is Mozilla Firefox and the second is Opera Browser.

• United States
23 Feb 07
I never cared for netscape, always seemed to be buggy or just didnt work right

• Indonesia
24 Feb 07
I think Netscape is better than ie at that time, and the bug is less.

• Indonesia
23 Feb 07
Opera, FireFox and IE ? Why do you use 3 different browser ? Is it necessary ?

• Pakistan
23 Feb 07
sorry i just use Internet explore it is good for me.....................simply the best

• India
23 Feb 07
no i do not use netscape. I used these browser in linux but i do not like it so i started to use mozillia. which is better.