Does anyone know about FOREX?

Nigeria
February 23, 2007 2:47am CST
I will like to know how I can start trading forex. What is the minimum cash required for every member? How can one make profit with it.
9 responses

• China
27 Feb 07
In fact, you still have many things to learn, not just technical analysis. And oanda.com is a good choice,partly because the spread there is rather low and you can start with a small amount of money. Dude, you will find this road is difficult, not just full of gold.

• China
27 Feb 07
Previously I was a client of Refco groups. After Refco's collapse, I don't open real account again since I wan to complete the claim to Refco first and I had many other problems to solve. Many of my friends recommended oanda.com and I have a demo account there. The spread for Euro/USD is only 1(or 1.5?) point and they gave my a good impression. Now my claim has completed. So I prepare to open an account in oanda.com. Hearing your words, I have some worry. If I open the account, I will put most of my money on Paypal. When trading, move to oanda's account. But I thought putting money in bank is more safe. Trading in forex companies is only a practice for newbies. If the bank in your local area has the deposit forex investment, I suggest you trade in bank.

• Singapore
27 Feb 07
I made the mistake of using Paypal to transfer money into Oanda, expensive transfer fees. Yea, the spreads have become tighter, a friend of mine said it is due to insufficient liquidity. Since spreads are the bread and butter of brokerages... I seriously doubt that would be good for the company. And that is a big cause of concern for me. There are two types of brokerages: Market Makers and ECNs I don't and never will trust Market Makers, and banks are Market Makers. It's bad enough I need to rely of banks for liquidity. I don't want to fully rely depend on them.


• Indonesia
24 Feb 07
Hello Edricj, Try Marketiva. It's free to be a member. And you got $5 also.

• Singapore
28 Feb 07
FOREX a.k.a Foreign Exchange. I personally use Oanda too. the spreads are good. 1.2 pips for Eur/usd pair sometimes. A tight spread is good for market players like us. There is less pips to cover for losses. Well there are comments about ECNs and Market Makers. Oanda is a market maker too. Seriuosly, I think most people now trade using market makers. Cos they offer soem type of financial analysis tools for free. Meta Trader is also good for analysis. Especially when there are lots of EAs and indicators being developed. I use Oanda to trade, but use other softwares for charting. I also use demo accounts to get a feel of the trades before I enter them. I'm having live feed from an ECN, thats why i always am a few pips before or after a MM when trading.

• Singapore
27 Feb 07
I started a small discussion about forex, you might want to take a look. I do not expect a response as it is not a discussion to begin with. The mimium cash required will depend on what you intend to do with it. If you want to make a living with it... you need 100K. Otherwise... 10K should be sufficient for you to grow it a decent capital.

• Poland
25 Feb 07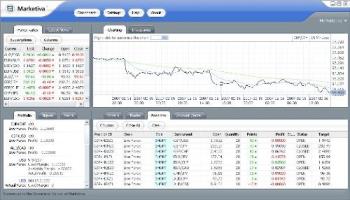 forex is foreign exchange which means u earn on buying and selling currency. u can download a program where u can do it from ur home, it is called marketiva and no need to worry about anything, here's the link: http://www.marketiva.com/?gid=4468 . u get there $5 so u can start ur bussiness immediately. the payement is on e-gold. all the rest is for free. i recommend the program becoz i have already earned there $1, while my friend over $100. there is also virtual training so u can practice first. enjoy!

• Singapore
25 Feb 07
One good place to start for small fries like you (no offence, dude) is oanda.com . You can do it free by opening a game account (no expiry date) and demo-trade. Alternatively, you can even just put in a mere dollar of real money and trade. The only difference between you and another pro is just the amount of real money you have there. If you can train yourself and succeed with this "$1 account", you can make it work the same way when you get your first million to pump inside.

• Israel
24 Feb 07
also if you will use marketiva you will get some virtual money fo practise so you can use them befor you use real money

• Philippines
23 Feb 07
I happened to check one website earlier recommended by one mylot member. Its called the invest7days. I'm not very familiar with the procedure yet. But its like you can invest as low as $1 I think. I still need to read further how it works. I'm still skeptical about it though.