I thought I had a long grueling day ahead of me

Orangeville, Ontario
February 23, 2007 7:38pm CST
with 6 loads of laundry and groceries. I didn't think I would make it to the walking track. But because school buses got stranded up north overnight, school buses were cancelled and my 13 year old stayed home from school. I did the first two loads of laundry. When I went out to do groceries I asked her to switch loads for me. I did not expect her to spend the whole day doing ALL the laundry. She is still doing it technically as at 8:30pm the last load is in the dryer. I got my groceries done and was able to go to the walking track, and didn't kill myself as the Deacon at our church had me slow down to talk to him so I got in some extra laps and didn't hurt. This is what my daughter does when she is "opting" not to go to school. She does everything she can to please me instead of annoy me. Ha ha ha! Does anyone else have a teenager who can be the best in the world if she wanted to? I feel so blessed.
9 responses

• Grand Junction, Colorado
24 Feb 07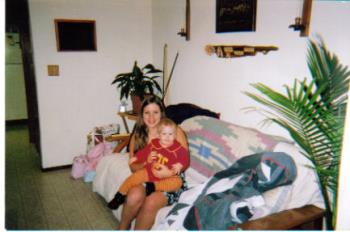 I have one teenager at home and one coming up. My 16 year old dughter is the best that you can ask for. She has never given me a bit of trouble unless you count her fighting with her younger brother, which I don't. She does what's she's asked when asked. Helps without asking. Does her homework without being told repeatedly. Is where she says she's going to be (at least I've never caught her not being where she says):) I really can't think of a negative thing about her. She is considerate, knows her faith, is trustworthy, and is very kind hearted. I'm trully blessed. I have attached a pic, I just love her so much. I love all my kids and could brag on all but since you were referring to teenagers figured I stick with that.:)

• Canada
24 Feb 07
Guys you are making me want to cry. The last few years have been rough with my children. Partly due to my own fault because I give in to them all the time. My 16 year old is in foster care, not because I beat her or because I was cruel to her but because we were in a situation that neither of us could live with. Yesterday she found out I had been sick for a few days. I had thrown up blood and she was really worried. She came over to spend time with me as it was a PD day. She cooked supper and we never had one fight. It was amazing. First time in a long while we got along like that. You two are lucky.

• Canada
24 Feb 07
WTG I'm glad she did that for you. You certainly can use the help from time to time. My 9 year old is a real gem. She is so thoughful and considerate of me and others. She loves to do stuff to surprise you. For example one night this week I fell asleep before her. Well she went in the kitchen and got everything layed out for me for the morning. She helps all the time and doesn't complain very often. I do feel blessed with my kids. I'm so fortunate to have kids that care and help. I just hope it lasts. Ha ha

• Orangeville, Ontario
25 Feb 07
Well my 10yo is the opposite. She is lazy as all get-out, unless there is money in it for her. DH gave her a list of chores and told her he would give her an allowance if she did them. The first week she did them all. Now all she does is take the garbage out. Occasionally she will set the table while I'm making dinner - but I don't make dinner very often. LOL!

• United States
24 Feb 07
My daughter is a tween (10).. she loves to help out when I'm busy.. Laundry isn't her thing though- She does like to iron but I have to be right there so she pays attention and doesn't burn herself! She likes to cook-- (I love it too- gives me a break).. and she likes to vacuum... She'd rather stay home then go to the grocery store to help me- LOL She says I spend too much time looking for good bargains!

• Canada
24 Feb 07
YOu are absolutely blessed and to be honest at 25 i still love to do things such as these to make my mother more happy and relaxed as well! You must be very proud as all of us would be and my daughters are still much too young to be this helpful but it definately gives me something to look forward too for sure!!! God Bless!

• Australia
25 Feb 07
That is fantastic that you have such a wonderful daughter and helps out instead of being annoying and frustrating you, you should be very proud of your daughter and thankful that she does this for you, and that you are able to do other things it is amazing what some daughter can do for us. You say you feel so blessed and so you should feel this way and I be that their are a lot of envious mothers out there wondering what the heck they did wrong to not have a daughter like you.

•
25 Feb 07
I think your daughter deserves a huge hug and a little treat .. I know it's good for teeangers to help around the house .. but as you say she has just about all the washing unasked .. it's not often teenegers would stick with a 'boring' job for so long .. you are indeed 'lucky' .. but surely this is the excellent upbringing she has received ;o)

• United States
25 Feb 07
I try to be as good as I can all the time. Everybody is fighting a hard battle. (I am a teenager myself.) For example, I'm babysitting right now well my parents eat.

• United States
25 Feb 07
My children are great people also. It is one of the greatest blessings from God to have good children who are not bad.