how many pizza`s do you eat/week?

Romania
February 24, 2007 1:35am CST
do you think that you should eat more pizaa`s /week? or less? Why ? Please tell me your reason!
5 responses

• Canada
24 Feb 07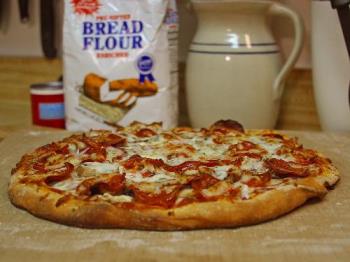 My husband and I both work nights so we order a lot of food, we try to have a variety so we probably eat pizza once a week as to not get too sick of it. We have a couple of places we really like, I do not like the places that do not even use real cheese.

• India
24 Feb 07
I don't think one should eat more than two pizzas in a month. That means, a pizza in two weeks. Pizzas add too much high calories in your diet, and consumption of one pizza pie, makes you stuff a lot. Also, an extreme amount of fat is there in pizzas, and eating one pie also, can't releive you from intake of excess fat. But I love pizzas a lot, and everytime I see one, my mouth gets full of water. Once I ate four or five pizzas in a month, and the result was obvious. I gained 1 kg extra weight shortly.


• Italy
24 Feb 07
I am italian so i adore pizza! i use to eat a pizza a week, usually saturday night with my boyfriend, i love pizza with vegetables and cheese

• India
24 Feb 07
hi, well incase if i have pizza then i will have only on weekends as thats the only time i get to have, since i am working and hardly find time out to have pizza, and also on weekends, it depends on whether friends are available or not as its not interesting to have pizza lonely...