do u share your coffee table?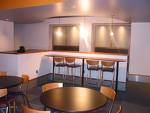 India
February 24, 2007 2:12am CST
i went to a coffee shop one day and was waiting for a friend of mine. the shop was relatively empty. suddenly this old person came and sat with me as the table was closest to the counter, he just took his coffee and sat there! imagine, i did not know aht to do when a friend of his joined him. it looked more like their table than mine. with only one more seat left i though it better to move to another one than wait for some third person to join in!
9 responses

• United States
25 Feb 07
I could see sharing it if the coffee shop was full of patrons. But for someone just sitting down at a table that I am already occupying, when there are other vacant tables, I don't think I would stand for it. I am a very blunt and straightforward person, so I probably would've told the people to find their own table.

• Australia
24 Feb 07
Oh that would of been strange and I wonder why this person would of sat down at your table when there were other vacant tablets around that is quite rude, here in my country if someone else wants to join my table they will ask not just plonk themselves at my table without asking me first, but if I am alone and not waiting for anyone an the tables are fully I will accept them to sit down with me.


• United States
25 Feb 07
Your so funny. I have had to sit at another's table. It was in NY on grameton ave Mc Donald's. Boy was it ever crowed that day. If I had more money I would have eaten else were. I joined another person booth. My daughter was a bit smaller than. It was ok i think. I had no conversation with the person. When she finished eating she just left.

• United States
25 Feb 07
I admit, I don't like sharing but space is at a premium in some of these places and everybody paysthesame for the coffee and has the same right to sit down and enjoy it. So I share if I have to.

• United States
25 Feb 07
It seems the proper thing to do would have been to ask you if you minded...especially when they knew they had a friend joining..I had a similar thing happen in a museum cafe..I was alone so a woman pulled out one of the 3 chairs left and plopped down...I didn't mind and kept reading my literature..I smiled at her and she leaned across the table and said " I hope you won't mind moving to another table since there is only one of you and there are 4 in my party!!!"... I was stunned...and looked around to see many tables with 1-2 people at them and even 2 tables in the back empty with 6 chairs around them...I politely pointed the large table out to her and she said " it looked like a good quiet place for me to read my pamphlet!!!!"...needless to say her party arrived at that moment and she "thanked me for moving, now"..I was done with my tea and politely said ..." I believe it was rude of you to assume I should move, but since I am done I will be leaving...and hope no one treats you as rudely throughout your day as you have treated me!"...I still think about her when I go into any cafe by myself...I wonder if she is out there pushing herself on unsuspecting people!!!

•
24 Feb 07
I would never do this without asking first. Sometimes you have no choice when you have a large group of people and the only table big enough just has one person sitting at it. I usually try to hoover around the table first and catch the persons eye and see if they offer to move.

• Norway
24 Feb 07
i would have thought that man was very rude. I never sit down at other peoples tables myself. i have been asking if i can have one of their vacant seats if we do not have enough at our table. i have had people come and sit at my table if there are no free ones. But the people that has joined me have always asked if it's ok first. If more than one people joins me thay've always said like: can my friend and i join you?

• India
24 Feb 07
that was a good one, you must haev been in a fix. i never have had to share a table as i generally go to places which are not so crowded. i prefer quiet places. if i have to share a table i would rather stand . i dont think i can ever share a coffee table with anone