Hello to all you scrapbookers

United States
February 24, 2007 5:23am CST
Hi I am new to mylot, I wanted to say hi to all the scrapbookers here because I am pretty sure I will spend alot of time in this subject. I do other crafts as well, and some photography. I got two of my daughters hooked on the scrapbooking too, so now we have our own little crops at home..Always open to exchange of ideas and to inspire each other...
5 responses

• Australia
24 Feb 07
Welcome to MyLot. Have you checked out the 20 layouts in 20 days discussion? I am Melanie and i live in Australia with my husband Peter and daughter. I have been scrapbooking for 3 years and love it to bits. Check out this website for more challenges: www.cropalatte.blogspot.com/

• United States
24 Feb 07
I did see that thread about 20 layouts in 20 days. I would like to try that in the future but right now time is not on my side. One of my daughters just moved, so I was helping with the new appartment etc. and now I am thinking ... hummmmmmm empty bedroom ???? SCRAPBOOK ROOM !!!!!!! I am going to put my computer in there for my journaling and have all my stuff in one place. Im so excited.. I was thinking of putting a big table in there so there will be room for more than one of us at a time. I am also trying to get a small buisness off the ground. I do alot of photography and have had some interested partys want to purchase blank greeting cards with my photos on them. So I am looking into printers here and things like that. But the challenges sound great, I would love to try one, maybe once things settle down here a bit :) thank you for the warm welcome

• Australia
24 Feb 07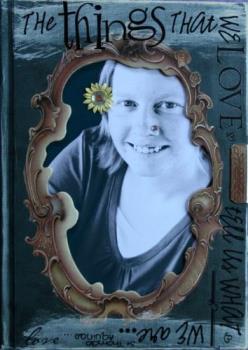 I wish you all the luck on your small business. What sort of business are you setting up? The scrap room sounds great. I have my own scrap room with a 6 seater table in it. Its great to be able to go scrap whenever I feel like it and still be able to leave it all out on the table.

• United States
25 Feb 07
I do photography as a hobby also.I just resently had someone ask me if I sold blank greeting cards with my work on the front? She wanted to purchase some.Well I have been trying to think of a way to earn some extra cash without having to get a second job outside the house. Something I could do at home that wasnt a scam off line. So I was just going to try to get some of the photos up online so this person could see them, also trying to find a printer here that will print for a reasonable price without having to order 10000000 of them to start :)


• United States
3 Mar 07
I love to scrapbook also...I actually haven't scrapbooked in awhile because I've been so busy but maybe I will scrapbook this weekend. I am so far behind though...I have tons of holidays and vacations that I haven't scrapbooked yet...it's a fabulous way to organize your photos though!

• United States
3 Mar 07
yeah you better get busy or you will end up like me.... having to do one old page for every new page of photos you do. I have so much catching up to do it isnt funny... maybe theres a place you can leave your stuff out to work on so you can do it when you have a few minutes, and not have to drag everything out.. I have a place like that but there is a cage with a small rodent living there at the moment LOL

• United States
28 Feb 07
Nice to meet you! I'm looking forward to hearing more from you! I'm so happy your daughters are into the hobby too! My daughter is one, and I really hope she gets into it when she's older!

• United States
3 Mar 07
I am sure once your daughter gets older she will want to do it too, they always want to do what Mom does LOL. you can start her small when she is old enough to want to do it. even in kindergarten they love to "make things" I am sure when she gets older she will love to look back on her first scrapbook :)

• United States
26 Feb 07
Hello! I too love to scrap. I wish I could have scrapbooking room, I have about 5 years to go before any of my kids move out. I have the plans for the room all drawn up in my head LOL! Hope you enjoy your time here at MyLot.

• United States
27 Feb 07
All I can say is to enjoy those 5 years LOL Seriously though they go by so fast. Before you know it you will have your scrapbook room :) Scrap Happy :)

• Canada
24 Feb 07
Hi, and welcome. Always nice to "meet" someone interested in scrapbooking. I think most of my family is sick of hearing about it (although it does make it easy for them at christmas and birthdays) so I love this discussion interest group. Lots of luck with your scrap room. I had my own room until my daughter was born now I share the family library/computer room. Actuallly, it has turned out pretty well. Looking forward to seeing yout posts.

• United States
25 Feb 07
yes it certainly does make it easy at holidays. I am always sure to get some gifts of embelishments :) If they are sick of hearing about it get them started in it LOL you know the saying if you cant beat them join them LOL I love being able to start a page or project and be able to leave it out in the scraproom. I used to hate to have to put EVERYTHING away to eat dinner at the table. Well happy scrapin'