novel pizza ideas!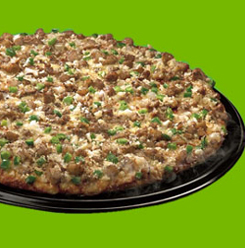 Philippines
February 24, 2007 6:52am CST
here at home (philippines) we have a pizza store (greenwich) that offers very quaint and fear factor type pizza variants. from what i remember the first that offered that would fall under this list was mango pizza. it actually tasted good, more like an open crepe, just thicker. now they have sisig and red egg pizza. let me explain. sisig is a sizzling dish. its made of pigs ears, knuckles, and other parts with the same texture. the parts are boiled, grilled, and chopped into pea-sized bits then served on a sizzling plate topped with either mayo, egg or pig's brains. so with the sisig pizza, you have the dough, tomato sauce, cheese and sisig. red egg is also known as salted egg. mud is scooped to troughs and is saturated with salt. eggs are buried to this prepared mud for about a month. the eggs are then painted red to differentiate then from regular eggs. so its dough, tomato paste, and red eggs. what out of the ordinary pizzas are offered in your country? what is your dream pizza recipe? yum yum
1 response

• Italy
24 Feb 07
If all of you permit to me: I'm italian and you know that Pizza is an italian food. Please, in all countries: stop adding some ingredients in pizza. The real pizza, the one you will never stop eating is the classic pizza. There are not many kind of classic pizza. But please, don't add any ingredient, normal or strange that is. I eat always and only the pizza margherita, pizza with tomatoes and cheese. No other ingredients.

• United States
24 Feb 07
We are in a global world now. You can not claim that just because your country was the first to have pizza that your way is the only right way. You should be happy that others are out there enjoying what you have created, and adding their own country's flair to it. It is very egocentrical of you to think that there is only one right way to make pizza in a world like we have today. I like pizza the regular way, but I am willing to try it weird ways, as well.

• Philippines
26 Feb 07
thanks to you quatelmon for airing out my thoughts. i guess i should've said that but hinocki fancies himself an authority on pizzas being that he's italian and all. frankly, any country who takes on a foreign dish is bound to add its own taste to it. and that makes it fun. :)