Friends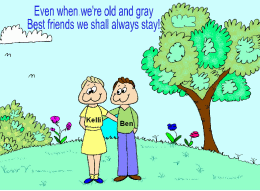 Portugal
February 24, 2007 10:10am CST
How do you notice that someone is a true friend of yours? As for me I've got some people I consider as true friends, I'm not talking about "known" people, I mean real friends. I know how a person is a real friend of mine when he/she is there to support me whenever I need and even if he/she can't do anything to help they always try to. What do you think about it?
2 responses

• Canada
24 Feb 07
You find out who your friends are when you're down and out. When you're at the top of the world and are successful, everyone tries to be your friend. But when things fall apart and you're really in need, the ones who are still there for you are the ones that you can count on to be a true friend.

• Portugal
24 Feb 07
Well, I think we only get to see our true friends in our time of need, in the times where things aren't going so well for us...because when those moments come, is when you'll see who really gives a damn about your person.