Just have a look at this picture....

Romania
February 24, 2007 10:58am CST
And tell me when did we forgot admiring what nature gave to us?Did you ever just stared at the sky (at night) and think to yourself "wow!this is the most beatutiful thing i've ever seen!"..?Did you ever just look at a sunset and think that it is the greatest painting of all?The picture i attached was taken in one of Romania's northern cities.Aren't those hills great? Isn't it true that those (comunist) buildings are destroying that view?And my last question comes: why do we replace the green with the grey?I know this happening all around the world.And I know that preserving nature is an impossible thing considering the industrialization factor...But still....
10 responses

• India
3 Mar 07
hee-------hee------- 0 responses for this shows how much people are concerned about converting the green into grey..ha ha --dont mind it please, i am just trying to be messing up -------- well i love watching nature, i enjoy seeing sunset and the most attractive thing for me is the moon, i dont know why but i love watching it, i too remember those days when we were kids and loved to watch stars, still i love to watch them , besides that i find the green color of plants fresh and refreshing just after rain, and i love watching rain too, i still like to spend sometime in garden, especially during early morning and during evening. yes we are replacing this green for urbanization and industralization, and it will remain as such, until we realize that we should stop, but i think still people can atleast plant a tree at home or a garden is great, watching butterflies and birds is really great

• India
4 Mar 07
i guess so that's the reason i love watching moon


• Australia
3 Mar 07
I certainly have stared at the night sky and surfed the milky way. Especially in the outback, the stars are a wall to wall carpet of sparkles. If I was able to post pictures I could post a vista of outback Australia, clean and clear of crud and smut, oooh such horrid words. Take the time to look at how a tree rises from the ground, and takes a shape that is hypnotic. Rich red sand, to yellow sand, to black sand, from the sky a kaleidescope of color. Sunsets that highlight jagged clouds and casts hands and shadows to lure hearts, to close eyes and draw hope of greatness. A big red moon rises and casts it's might to show that we are but ants among a galaxy of giants. Ahhhhhh.

• Romania
3 Mar 07
Ahhhhhhh indeed,my friend. I found myself reading your post 3 times.It just sounded soooo....ahhhhhhh(sigh)...I have a pretty developed imagination and your words made me see Australia in front of my eyes. Thank you for your beatutiful words ..and for the day-dream I had while reading them.I want to see Australia even more than I wanted before.

• United States
4 Mar 07
I remember one night in North Carolina, we were having a BBQ, and I had never seen so many stars in the sky like I did that night. It was beautiful and I didn't want that moment to end...It was romantic at the same time being with the one you love..Just made the night perfect... Great topic

• United States
4 Mar 07
Well since it's March, I'm going to have to go outside and check..well hold up, It's really really still cold here at night. Maybe by the end of March I will check..lol :)


• Romania
7 Mar 07
MY (ex)HOME!!I love those hills!I miss them so much!!Here i can see our neighbour's house and 2 trees if we are lucky. It's such a shame that they destoyed more than 50% of that city.It was a lot more beautiful before they build all the buildings. Oh,yeah!And I even had a river there.It was 30-40 meters from my window.Of course it got polluted too!The nature builds so many wonders,and people have such a wonderful affinity to destroy all beautiful creations!

• Romania
7 Mar 07
Ehh , i knew that you missed those hills.Well you have been warned about the consequences of moving in with me....we have s***ty neighbours...concrete....more concrete (some in the form of old buildings that hold a wonderful architecture so it's a + there in it).Oh yeah almoust forgot about the river...we have one too...i think.Want to go out on a night walk?:D

• Etowah, Tennessee
8 Mar 07
GET A ROOM! OH yeah ya got one! I saw a small exchange in another thread and decided to see if my hunch was right. Welcome Tammuz! It is nice to meet you. I requested an add and hope you will accept!If you can put up with him you've got to be a good sport!LOL


• Switzerland
5 Mar 07
I have a lovely view on similar hills from my living room, with higher mountains in the distance. There's a forest that completes the scenery, which would be perfectly gorgeous if it weren't for the cooling tower of a nuclear power plant. So I know how you feel...

• Romania
5 Mar 07
Thank you,my friend.It's always a pleasure to know that I am not the only one who feels like this. You must have a lovely view over there.I always see on TV your country....It is all so beautiful... Nature is gorgeous,isn't it?Why are we so disrespectful?*sigh* Thank you again :)

• Etowah, Tennessee
7 Mar 07
i live in the south east of the US and we have mountains. I love the mountains here! We have places that are not heavily populated and I enjoy them greatly. I live near a National Forest and It is a nice place. You could get lost in there for years and not see a soul if you were lucky (or unlucky if lost!LOL) I wish people would remember that we need trees to live and breathe and do more to plant some in their area.

• Romania
7 Mar 07
It will be a lot better if people would remember a lot of things! I've heard so many times that the South USA has great mountains...but yet I don't see any of you 2 uploading pictures of your views. We have mountains here,also...they are splendid...It's such a luck that they are too tall,and therefore they escaped from indistrialisation...and are opened for tourists. You know..i sometimes wonder which one of those two are worse...people who leave a mess in the middle of the forest...or people who agree with machines that bring us more pollution. Thank you tammyr :)

• Etowah, Tennessee
7 Mar 07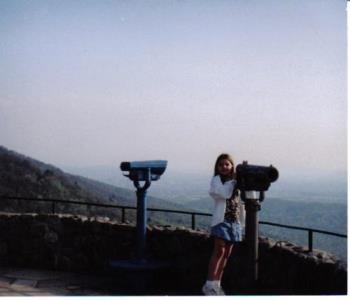 I do not have any on my PC. So I went hunting and found one. It is not great, but it will do. It is the view from Rock City in Chattanooga. My niece is in it, my sister took it. I will get a good one and post it tomorrow, will that do? It is a good one as it shows the hazy effect that elps(?) was talking about.


• Canada
6 Mar 07
i still marvel at nature every now and then not so much ni winter to damn cold for me to spend enough time outside to do anything but curse at how cold it is. but in the spring and summer i love dancing in heavy rain storms :) unfortunatly alot of people live nowhere near anything remotely natural. alot of people dont even have yards of any kind these days which is sad, hence the extreme disconnect with nature.

• Romania
7 Mar 07
Tell me about it! We now live in the middle of Bucharest...the capital of Romania...and we both suffer a lot from being away from nature.Ehmm we..as in me and my beloved...I don't have multiple personality yet lol Nature needs a lot of respect,doesn't it? Thanks a lot :)

• India
5 Mar 07
Yes you are right. I don't even remember when was the last time i went on a perambulation under the dimly lit sky. Our lives have become so mechanical that we hardly get time to praise the mother nature and more than that we've developed habits of completely ignoring the hard realities. Our i give a damn attitude would make us repent one day.

• Romania
5 Mar 07
Thank you...I respect nature so much!You can't imagine how much it hurts to see how people are turning nature,our planet into industrial dust. You should go out in weekends...just to remember how beautiful nature is...and how insignificant and small we are comparing to this universe.(I usualy get that feeling when I stare at the sky). Thank you so much for answering.


• Etowah, Tennessee
7 Mar 07
I see it as holding it's nose at the pollution we have caused!

• Philippines
8 Mar 07
Yes, nature! The beauty of it has no compare. It is a blessing that God gaves us. All of us should be responsible in caring for our mother nature. But sad to say that we people don't care for it. We became greedy and some has no time for caring nature. Some greedy people get natures resources so that they can ear more money to become rich. Some has no time, for they are busy with work and other activities. What will happen to the next generation if now all of us would not care? Our grandchildrens' children will never see the trees, forest or the hear the chirping of the birds because everything has been destroyed. I think we should start to care now. One by one, in our little ways. We plant one tree or not throw garbage anywhere will somehow will help a little in preserving the beauty of nature.