I am a mirror for the negativity and put-downs that my mother does to me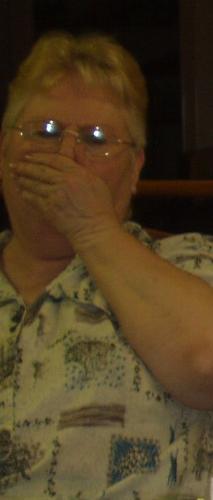 United States
February 24, 2007 5:09pm CST
I am in counseling right now and this weeks' session was very emotional and very painful. I am still upset about it. While my therapist was talking, I realized that I have become a mirror to all the terrible and horrible things that my mother says to me. She puts me down constantly, nothing I do is right or good, I'm a loser, I'm too smart to make such stupid decisions, I need to cut my hair and use makeup, I need to lose weight, I am not nice enough, I am not a good mother or a good grandmother and the list goes on. She's even said how I am so much like my father, the abuser, the one who beat all of us[even mother and the dog] as we were growing up. Both my parents were alcoholics while I was growing up, they smoked, drank, partied, did wife swapping in the 1970's, you name it, they might have done it, well except for drugs. That's the one thing that I think they didn't use. I have had a hard time of it these past ten years or so. I have found myself thinking a lot of negative thoughts and putting myself down. I am doing my mother ON MYSELF. I feel so terrible about this. I do not dump on anyone else, I would never do this to MY daughter. My counselor said that I would not get to leave counseling, that we would sit there all day and night until I could find something nice to say about myself and I had a hard time thinking of anything. Finally, with his prompting, I said that I am a decent mother and a decent grandmother. As a parent, it is the one area that I am truly nothing like either of my parents, thanks be. I feel so terrible about all of this. As a revelation about oneself, its the size of an atomic bomb.
4 responses

• United States
25 Feb 07
I feel so bad for you but the truth is we all have abusive people in our lives and they are probablly all bully cowards. Your mother is no exception. I think the trick (at least for me) is to let the universe take care of them and stop blaming myself....As far as good things about yourself. You could also have told that shrink that your a good Mylotian who communicates well on line and adds something to the community.

• United States
26 Feb 07
Thank you, all kind words are gratefully accepted and cheerfully hoarded to think about when things are tough.

• United States
24 Feb 07
I am so so sorry that you went through an experence like that. No person deserves to be treated like that. NO PERSON. You didnt do something to deserve it. You are a good and beautiful person. Someone who deserves to be treated well. Your mother, if you want to call her that, is an ill indevidual, she has her issues, frustrations, fears, and angers and she takes them out on you. You have a choice to let those effect you, or to move past them. By admiting to your counselor that you ARE a good mother and grandmother, you HAVE made a huge step. You can move past this trama, and you can feel good. I dont pretend to know you, or the story. But i have faith that you can rise above this. Good luck!

• United States
25 Feb 07
Thank you so much. I'm trying to deal and I'm in counseling so I am hopeful for the future.

• United States
25 Feb 07
Congratulations on seeking counseling! It is tough! I've been there a couple of times. And when we have a "breakthrough" it is really tough. It is as if someone opened a big wound, left it gaping, and then said, okay, times up, see you next week, and then you wondered how in the world you were going to be able to function in the world for the next week while feeling so naked and vulnerable! You can do this! The things we heard as we were growing up are very strong, but you can make it past them. You need to recognize your mother is probably very insecure...she may not know how to have a normal relationship with anyone. You are on the road to becoming a stronger and better person! You are seeking to understand yourself and I'm proud of you for doing it! I know therapy helped me, but prayer and a relationship with God helped me a lot also. He is always there for you whenever and where ever you are...even when you are feeling especially alone! Again...bravo to you! You are doing good things! Congratulations and good luck! And God bless you also!

• United States
26 Feb 07
Thank you. Reading your response really does help. It's like it's not so lonely out there somehow.

• United States
27 Feb 07
I know how you feel regarding your mother. My mother has done the same thing to me. She had put me down so much when I was younger that when I got older I had a hard time believing that I could do anything. Until I stood up to her and told her how I had felt, she continued doing it to me. Every once in awhile she still does. Just the other day she asked me if I yell at my baby, and I asked her why she thought that. She didn't say anything, and I blatantly told her how I felt about it. I wanted to hang up on her so badly, but I didn't. I wasn't going to be apart of her games again. Anyways, I was also going to say that it's hard to find some things to say that are nice about ourselves sometimes. We are our worst critics; however, it is very hard when we have had others (moms, dads, sisters, brothers, etc.) put us down most of our lives. I can understand not knowing what to find that would make us feel more positive and good about ourselves. It takes much training to do so. One more thing, good that you are not like your mother, and it's great that you are able to talk about these things. Talking about them makes you not keep it stuck inside you. Hope that you continue doing this.