cricket world cup 2007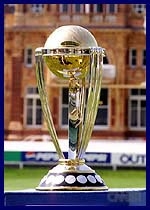 India
February 25, 2007 2:40pm CST
The much awaited cricket world cup to be started on march at Westindies....I strongly believe india will win cup..what you guys say?
2 responses

• Italy
25 Feb 07
Yes, it is starting but do you believe that India will win the World Cup or do you hope it? There is a big difference also if India can win. In the ODI ranking India is at the moment number five. I know that it is not so important in a World Cup but it means something. You can see the ODI and TEST ranking in my blog if you like (http://cricketitalia.blogspot.com) but, sorry it is in Italian.


• India
26 Feb 07
Hi friend,could you mention some of our strength..how do u rate our team high from other teams?