which male and female CSI do you like most in the three CSI series?

China
February 26, 2007 5:43am CST
the male CSI i like most is Gilbert Grissom, i like all of him, especially his hobby and style. he is such a attractive man. it is a little bit hard for me to choose the most female CSI i like, because i like both Calleigh Duquesne and Stella Bonasera. so how about you?
9 responses

• United States
26 Feb 07
I agree Grissom is my favorite male. The character is just great. His thinking is a bit off the wall along with his humor, he has a style that is unique to him. Among the women of the shows I like Cathrine Willows the best followed by Calleigh. They are both great characters. Strong women who aren't afraid to put it all on the line when need be. They are fun to watch.

• China
26 Feb 07
i asked several friends of mine who also watch CSI. but nobody like Grissom except me. i am so glad that you agree with me. in my opinion, i don't like cathrine very much because compare with others i think she is a little bit selfish. anyway, as you said 'they are fun to watch'.

•
26 Feb 07
Difficult to respond to this one hun, but I would pick Gil Grissom and probably Calleigh

• China
26 Feb 07
seems we have the same taste of this question. thanks for your reply.

• Italy
2 Mar 07
hard question! well man... Gill Grissomand Horacio Kain, female Sara Sidle!

• Philippines
2 Mar 07
I love Gil Grissom,he so smart and let the other CSI do their work with for themselves.I also like Gary Senise (CSI NY).My least fave is Horatio,i just dont like him.LoL

• United States
2 Mar 07
It would be really hard to choose favorites among all of them. For the male, I have a favorite on each show. I like Greg the best on the original. I was happy when he came out of the lab. :) On Miami I like Eric. I also really like Calleigh. She might be my favorite female, but I really like Lindsay on New York, too. And on New York, I LOVE Danny. He is actually probably my favorite character of all three shows. Greg is a pretty close second, though!

• United States
1 Mar 07
Can I be biased and just pick one CSI series? I'm a bigger fan of the Vegas one than the others, so I'd choose Catherine & Nick. I just love Catherine's sexiness, intelligence, and woman empowering character....and as for Nick, need I really say more?

• United States
28 Feb 07
On the original CSI, Grissom is my favorite character. I like LOOKING at Warrick the most, LOL Catherine is my favorite female. Onc CSI:Miami Horatio is my favorite male character. I love the way he interacts with children. He's the type of man I'd like to date. With him, you feel like he's always there to help & protect you. I guess my favorite female is the ME. Khandi Alexander, I don't remember her character name right now. On CSI:New York Gary Sinise is my favorite character. I only started watching it recently (because of Gary Sinise) so I don't really know the female characters. Melina Kanakaredes is the only one I remember, LOL.

• Philippines
28 Feb 07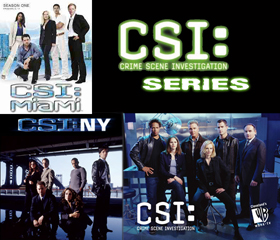 For the Male, Gil Grissom wins my vote and unanimously win this contest. For the Female, I'm tied with Catherine Willows and Calleigh Duquesne. Willows emulates Grissom and still has a presence of mind to process the scene even though she's the victim (episode 2 of season 7) on the other hand Calleigh is the best ballistics expert of all the CSI's.